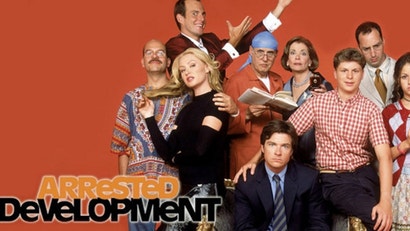 The Netflix-only fourth season of Arrested Development went live at 3 a.m. EST this morning, and if you didn't see the Twitter deluge coming, well, you're one of these people:
I've seen a lot of "Arrested Development" tweets today. Is the show really that good?

— john skowron (@moose81083) May 26, 2013
---
When did everyone get so into arrested development? Where the fuck was I?

— neopets tech support (@notrosegerin) May 26, 2013
But you're probably one of these people:
spending my whole night watching ARRESTED DEVELOPMENT #tearsofjoy

— Alia AQ (@Alia_AQ) May 26, 2013
Was up passed 3 am last night watching new #arresteddevelopment and had to work at 8 am #worthit

— Kristian_Morgan (@kristinmurga) May 26, 2013
Or you actually have to get sleep in order to work:
why do i have to go to work, all i wanna do is watch arrested development all day.

— natalia youssef (@nataliayoussef) May 26, 2013
So you hate this person:
Eating a frozen banana and watching arrested development... and off work tomorrow... #winning #fb

— Connor (@connormcc) May 26, 2013
Or perhaps the whole thing is just making you bitter:
Jealous of the dude sitting beside me watching the new Arrested Development episodes. Stop laughing I hate you

— Jaim (@jamiescott1201) May 26, 2013
Wow guys there's this cool new show called arrested development on and we should all watch it and talk about it until forever

— LV (@lvxz_) May 26, 2013
Everyone stay calm. The first wave of marathoners are going to pass out soon, making way for days of enthusiastic, yet infuriatingly inaccurate chatter, at which point the whole thing will crumble under its own self-referential weight and we can go back to making obscure Game of Thrones references.
Oh, and one more thing. People frickin love that ostrich:
I have never been happier that the reoccurring theme in arrested development is an ostrich. My favorite animal

— Dirty Dan (@TweetMagoo) May 26, 2013
what's with the re-occcuring ostrich in Arrested Development? #OHMYGODHAHAHA

— Diablo de Mago (@PIZZA_BOI_LOGAN) May 26, 2013