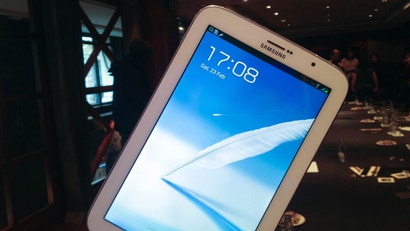 Samsung's not done inventing new form factors for its best devices yet. Not by a long shot. Meet the Galaxy Note 8: an 8-inch version of the Galaxy Note we loved from last year. Can it pull off the same trick in this new form factor?
What Is It?
The Note 8 is an 8-inch tablet that features a 1.6GHz quad-core Exynos chip (meaning it's made in-house by Samsung), 2GB of RAM, 16GB or 32GB storage variants with expandable microSD storage of up to 64GB, underneath a 1280x800 screen that packs in 189 ppi.
What's Good?
The great thing about the Note 8 is that it packs in so many great smartphone features into an awesome form factor.
The S-Pen is back for another outing in the Note 8, and it's better than ever thanks to the work Samsung did to make it better on the Note 10.1 and the Note II.
Multi-window is also present on the Note 8, and there's enough real estate on this thing to make that a decent proposition. You're left with a lot of white (read: wasted) space on the Note 10.1 and the Note II is just a little bit too small to really get the full benefit of that particular feature.
Meanwhile, the specs are impressive on the Note 8, and it makes for a smooth, lag-free experience. Interestingly, the specs look great on paper and the user experience is great, but as we'll discover later on, that doesn't always translate to fantastic benchmark numbers.
The screen is bright and beautiful, but it doesn't have the same pixel density as the Nexus 7 (216ppi), but it beats out the iPad Mini (162ppi). None of that really matters though, especially compared to the Nexus 7, because the screen is so much brighter that it's not noticeable to the human eye.
The Note 8 is also pretty fetching to look at if you're a fan of Samsung's plastic sheen. Samsung has a beautiful series of official covers going for the Note 8. They work almost exactly like Apple's Smart Covers for the iPad: place it over the screen, and it turns it off. Remove it and it wakes up. The screen cover flips around the rear of the device and magnetically fixes itself into a small stand, too, which is handy.
What's Bad?
Our least favourite Android skin, TouchWiz, is back to play, and upsettingly, it's as frustrating to use as it is on the Galaxy S4. It still feels like TouchWiz is fighting Android, and everything takes a few more clicks than it should. It doesn't slow the device down any, but it certainly takes some getting used to.
The Note 8 is a viable competitor to the Nexus 7, but it loses out on the price. The base model has 16GB of storage and Wi-Fi only connectivity, and you're still looking at a price tag of $459. Looking at the competition, and it's $210 more expensive than the Nexus 7. It's even $90 more expensive than the iPad Mini. You'd want to really love it for that price.
We mentioned benchmark performance earlier. While the Note 8 is powerful with its quad-core 1.6GHz chip and 2GB of RAM, it's not blasting apart records on the benchmark charts, coming in with a meagre 1691. Compare that to the recent smartphones on the market, and it loses out to everything from the LG Nexus 4, Galaxy Note II and the HTC One.
To put that in more perspective, it's about as powerful from a benchmark perspective than the Galaxy S III — last year's flagship. None of this really matters because the Note 8 is smooth and lag-free, but it's interesting to see just how powerful smartphones are getting compared to tablets.
Should You Buy It?
After about a year of waiting we finally have a small tablet that we can recommend alongside the fantastic Nexus 7 from Google and Asus. The Galaxy Note 8 is an excellent tablet that's powerful, reliable, great-looking and practical.
The 8-inch form factor is perfect, the S-Pen is a tremendous compliment to the device and nifty accessories like the pseudo-smart cover are a top touch.
Sure, it's more expensive than we'd like to pay for an 8-inch tablet, but you're getting what you pay for here. It's top bang for buck. Our only reservation about the device is TouchWiz, but it's something you can either get used to or get rid of in time.