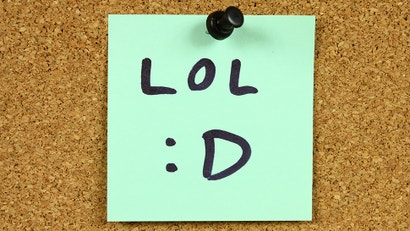 One of the many unbearable things about the internet is how we use certain words and phrases until they are completely void of any meaning at all. And, because it's the internet, the most insufferable trends stick around long after they're welcome.
The thing is, the internet has a mob mentality, and we're all culpable here. Once the first person started responding to everything with a canned LOL, we followed suit. Let's band together and stop. Here's the hit list of tropes we should all just agree to abandon forever.
1. I can't even:
https://twitter.com/arisofchaos/status/332141263740628992
You can't even what? Walk? Run? Pick up a thesaurus. Use your words.
2. ,so.
Wagner is wearing a bow tie today, so.

— Nicholas Stango (@nstango) May 10, 2013
Please don't make us wait for the other grammatical shoe to drop.
3. This is Everything:
this is Everything RT @kevinroose: Spotted in Vegas: a man's tattoo that says "TATTOO." I've seen it all. http://t.co/fmpNAUlfgG

— max read (@max_read) May 9, 2013
Noooooo this is one specific thing, hyperbole is overdone, even ironic hyperbole.
4. This is perfect:
This. Is. Perfect. Jack Dorsey's 60 Minutes interview in 140 characters: http://t.co/g1AuBqHaWP

— eric limer (@ericlimer) March 18, 2013
See item three.
5. The worst thing/the best thing
@daweiner but also that sounds like the worst thing

— leslie (@LesHorn) March 2, 2013
You are almost definitely referring to an average and/or mediocre thing.
6. REALLY??
Ugh, she expects me to take up one seat on the subway when I'm clearly EXHAUSTED. Really?!?!?!11/

— Ashley Feinberg (@ashfein) May 10, 2013
Since we mostly use Twitter to kvetch anyway, let's assume the REALLY?? is implied on all tweets.
7. OBSESSED
Oh my gosh, OBSESSED with @nxthompson's story on being fired from his first job @60Minutes in under 60 minutes http://t.co/gMplluNlJK

— Callie Schweitzer (@cschweitz) May 9, 2013
Obsession is a disorder in which people have unwanted and repeated thoughts, feelings, ideas, sensations (obsessions) or behaviours that make them feel driven to do something (compulsions). Does this describe your relationship with the new Chrome extension that makes your website fart when you scroll? No. OK, moving on then.
8. I die
There's a DISNEYLAND DAPPER DAY. I die.

— Meredith Woerner (@MdellW) February 16, 2013
Oh my god the mentally disabled internet famous cat of the month is so cute, I die! Unless you are literally dead and the tweet you've sent is some post-mortem brain wave, we're going to let this saying die.
9. FTW
Badass wooden boat builder dude FTW http://t.co/Wg2B8UeWJV

— mario aguilar (@mariojoze) May 2, 2013
This is the internet, not a game-winning field goal. And honestly you probably shouldn't say this in either of those circumstances.
10. +1
+1 RT @LesHorn: I'm not wearing a sweater

— Veronica de Souza (@HeyVeronica) May 10, 2013
Once again, this is not football, there are no PATs.
11. LOL
@HeyVeronica lol what does that mean

— Sam Faulkner Biddle (@samfbiddle) May 5, 2013
No, you are not laughing out loud, and if you're being ironic see item three. Again.
These are the online cliches we're sick of. But you probably have your own. Let us know if there's anything else we need to put a stop to in the comments below.
Top picture: Shutterstock/Tupungato
---
User Manual is Gizmodo's guide to etiquette.