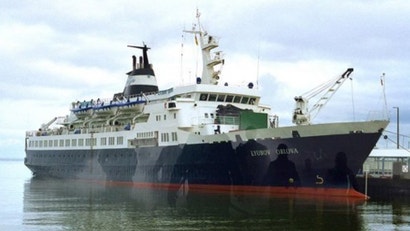 This is the Russian cruise ship MV Lyubov Orlova. It disappeared shortly after it left Canada en route to the Dominican Republic, in the Caribbean. Two months later it has reappeared as a ghost ship, completely empty, floating adrift 2400km off the west coast of Ireland.
The Orlova — named after a famous Soviet actress — had been abandoned for two years before getting lost at sea. The ship disappeared in the myst while being towed to the Caribbean Sea for scrapping. Apparently, the cable that linked her to the towing ship snapped.
Nobody knows how the towing ship's crew didn't notice their missing companion, but everyone assumed the Russian vessel was lost seemingly forever in the North Atlantic ocean, as its global positioning system stopped to work. The Canadian authorities admitted that they had no clue about the ship's whereabouts, claiming it wasn't their responsibility anymore.
The Orlova was spotted by the Atlantic Hawk, a supply craft used to ferry materials to and from oil platforms. The Atlantic Hawk was able to intercept and secure the Orlova before it disappeared again. On board the ghost ship there was nothing but rust and rats.
The information has been published by the US National Geospatial-Intelligence Agency, an organisation that creates classified maps for the United States military as well as maps for civil use. According to the agency, the ship was about 2400km away from Ireland.
The Orlova is now slowly en course to Europe. [Daily Memorandum via Physorg]