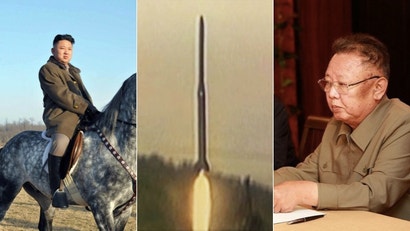 Last night, North Korea unexpectedly decided to test a nuclear bomb without the common courtesy of telling anybody first. But it's just the latest in a long line of terrifying things the country has done.
Led by a single family since 1948 — first Kim Il-sung, then later Jong-il and now Jong-un — North Korea has a rich history chequered with both comical and tragic stories. Here's a potted timeline of everything weird and frightful that has come out of the DPRK since its founding.
1950: After just two years of being a country, North Korea invades South Korea because why not? This, as you might have guessed, kicks off the Korean War.
1950s: Soviet Union decides to be helpful, giving North Korea the means to start its nuclear program.
1950s: North Korea constructs Kijong-dong, a fake city situated in the DMZ meant to lure South Korean defectors. It's still there — and uninhabited — today.

1965(ish) Jong-il claims in his biography to have written no fewer than 1500 books in his three years at university.
1976: Two US Army officers killed by North Korean soldiers in what is known as the Axe Murder Incident. The pair were brutally murdered for pruning a poplar tree.
1978: Kim Jong-Il, not yet ascended to leadership, kidnaps famed South Korean director Shin Sang-ok to help jumpstart North Korea's burgeoning propaganda film industry. He makes seven films before finally escaping in 1986.
1985: North Korea signs up to the nuclear non-proliferation treaty. Totally normal at the time, a little insane in retrospect given...
1986: Yongbyon nuclear reactor put into operation. Powered by uranium, it was capable of producing weapons-grade plutonium.
1991: North Korea somehow joins the UN.
1994: Kim Jong-il purportedly tries his hand at golf for the first time, managing a 38-under par round that included no fewer than 11 holes in one. Satisfied, he immediately declared his retirement from the sport.

1998: Taepodong-1, a two-stage intermediate-range ballistic missile, developed and tested. US claims North Korea is developing nuclear weapons at secret sites.
2003: North Korea withdraws from the Nuclear Non-Proliferation Treaty (naturally).
2004: Jong-il claims the invention of the hamburger as his own.
2005: North Korea publicly declares its has nuclear weapons.
2006: First(?) nuclear test in the North Korea. US officials suggest that it was probably a misfire. Whoops!
2007: A smoking ban is imposed on the entire city of Pyongyang, to prevent Kim Jong-il from being exposed to secondhand smoke during his recovery from surgery.
2008: Kim Jong-il reportedly schemes to remove all short people from Pyongyang by promising them access to a miraculous heightening drug, then kidnapping them.
2008: A 50-year-old female South Korean tourist is shot down by a North Korean soldier for stumbling into 'military territory' in... the Keumgang Mountain Tourist Region.
2009: North Korea launches a rocket called Unha in the general direction of Japan, in what appears to be an advanced preview of WWIII. Second nuclear test.

2010: North Korea is blamed for the sinking of the South Korean warship Cheonan and the deaths of 46 of her crew. The country's artillery also bombards the South Korean island of Yeongpyeong, killing four people.
September 2011: Horrific North Korean death camps show up on Google Maps.
April 2012: North Korea spends $15 on its new website. Officials proudly parade a series of fake missiles.
November 2012: Kim Jong-Un named The Onion's Sexiest Man Alive 2012. Archeologists of the History Institute of the DPRK Academy of Social Sciences in North Korea discover a Unicorn lair. Obviously.
December 2012: The country casually puts a rocket into space without warning anybody. It turns out to be a satellite.
February 2013: North Korea conducts underground nuclear test without warning, using a "miniaturised nuclear device with greater explosive force."
Picture: Wiki Commons