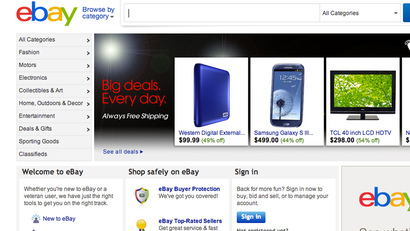 Remember New Coke? It was wildly unsuccessful. But today eBay announced new eBay, and it ain't half bad. Everything from the apps to the logo to the front page has been redesigned.
Now, everything is heavily curated — each time you visit eBay.com, you're going to get suggestions of products it thinks you want based on your past searches and purchases… even if you don't know you want these things. Product pages are totally new with huge images and cleaner item information.
The coompany has also made it a hell of a lot easier to spend money, because now you can link your PayPal account with your eBay account. So when you see something you like, you can buy it with just one click a la Amazon.
Along that same spendy theme, there's a new wishlist feature that looks like a Pinterest board. It shows you pictures of items that have been listed recently so you know when there's a vintage Rolling Stones poster or a great pair of Persol shades on the block. In short, keep your wallet away from the new eBay. It looks like eBay.com.au has not been included in the changes. [eBay]