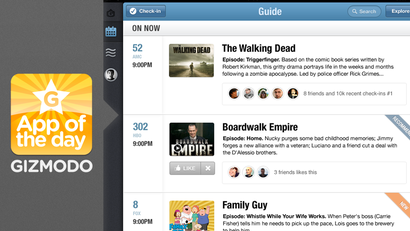 Ever used a TV guide or tie-in app like Fango? We'd forgive you if you thought they were a little janky. GetGlue HD fills in what for what those god awful things are lacking, offering a totally personalised couch potato experience.
What does it do?
It's kind of like Foursquare for the boob tube. Sorry if part of you died reading that last sentence. Get Glue HD gives you a personalised TV guide on your iPad that recommends shows you might like and tells you exactly which ones are new, so you're not catching any reruns.
Why do we like it?
If you find it takes days for you to stop talking about each new episode of shows like The Newsroom after it airs (IT'S NEARLY HERE YOU GUYS), you'll like this app. Log in when you tune in, and chat about your favourite shows. Hash out your predictions, discuss plot lines, and don't worry about spoiling it for anyone else. Because god knows you'd be tweeting them otherwise.
Get Glue HD
Download this app for:
The Best:
Intuitive TV guide
The Worst:
Service is a bit overkill