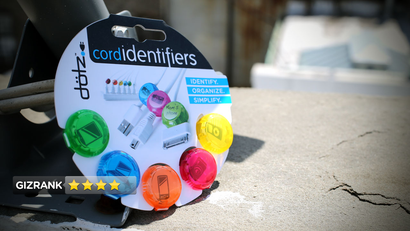 This office has tons of cords and cables. Unplug the wrong one, and, surprise! You've cut off your coworker's power sources and turned off their monitors. They hate you and want to kill you. That's why Dotz cord identifiers are particularly useful.
What Is It?
Snap-on plastic labels for all the cords to your gadgets.
Who's It For?
Anyone who uses electronics and plugs them in. So, everyone.
Design
Candy-colored coin-sized dots. Kind of juvenile.
Using It
Write what the cable goes to on a little piece of paper. That goes inside a plastic shell, which snaps around the wire.
The Best Part
They're cute, cheap, and super handy.
Tragic Flaw
Big wires are a strain — it barely fits around the fat part of a MacBook charger.
This Is Weird...
They look kind of like something a school teacher would use. Or insist that you use. They're the digital equivalent of divider tabs in a three-ring binder.
Test Notes
Systematically labelled every cord within reach.
No one swiped anyone's 30-pin connector.
No monitors were unexpectedly unplugged. The workday was unusually calm and even-tempered.
Should You Buy It?
Totally. Cameras, laptops, phones — no matter what kinds of gadgets you have, there's at least a handful of different cord for syncing, charging, uploading, and so forth. In an office where people are using a range of devices, it's even easier to get them all mixed up. But now at least a small problem is solved. Now, back to those TPS reports.
• Price: $US3.99 for a pack of five
• Material: plastic
• Colors: assorted pastels and brights
• Dimensions: About an inch in diameter
• Hazards: Choking
• Gizrank: 4.0 stars