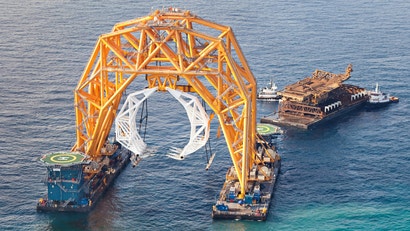 Though they weigh as much as 55,000 tonnes, the massive semi-submersible oil rigs dotting the Gulf of Mexico can still sink when faced with a hurricane's onslaught. And there's only one way to pull the rigs' 6800-tonne decks off the seafloor after such a catastrophe — with America's heaviest-lifting ship, the VB 10,000.
Designed by the Versabar corporation (based off the company's previous heavy lifter, the Bottom Feeder) and constructed by Gulf Marine Fabricators in Ingleside, Texas, the $US100 million VB 10,000 is a heavy-lift catamaran that mounts a pair of massive lift gantries atop a pair of barges. Perhaps massive is a bit of an understatement.
Each gantry measures 73 metres tall and weighs over 3000 tonnes — or about as much as the Ben Franklin Bridge in Delaware. The barges both measure 90m by 22m, and each is powered by a quartet of 1000hp thrusters that also allow it to remain stationary over the job site. To prevent the motion of the ocean from affecting the the lift, the VB 10,000 utilises a set of articulated pins to connect the gantries to the barges. To perform the actual lift, four 1800-tonne lifting blocks are attached to the oil rig deck by divers, who also cut off the rig's legs, and are then pulled to the surface by the vessel's quad 360-tonne winches and deposited on the back of a waiting barge for transport back to port.
Launched in October 2010, the VB 10,000 has already logged over 40 lifts — everything from underwater debris retrieval, to topside decommissioning, to jacket removal and reefing. And with the vessel's new grasping devices, the VB 10,000 will be able to pick up the some 1800 rigs US regulators have deemed necessary for removal in the next decade.
Aptly named "The Claws", these underwater lift devices are exactly what they sound like, gigantic pincers not unlike ones you'd find in a carnival game. Each independently operated claw measures 37m tall, 34m wide, and weighs 900 tonnes. They can also be used in conjunction with a set of cradles that are sunk to the seafloor ahead of a claw lift. The debris is first loaded into the cradle, then the the cradle itself is raised. This prevents the claws accidentally crimping a a multimillion dollar rig deck as it's recovered. [Versabar - Offshore Magazine - gCaptain - PopSci]
Images: Versabar
How the VB 10,000 was built.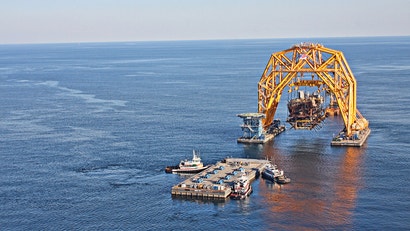 The VB 10,000 sans the claws.