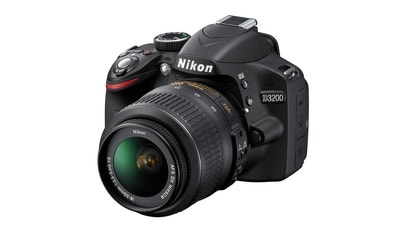 Nikon's entry-level DSLRs are known for being well built and easy to use. The same looks to be true for the D3200, just with a supersized 24.2MP sensor.
Like the D800 and its monster 36MP sensor, the D3200 is an escalation in the sort of dormant megapixel war. The DX-format (sorry, full-frame hopefuls) CMOS sensor should allow for sharper stills than pricier options like the 16MP D7000 in ideal conditions. The added resolution makes increased noise in low light shots more of a concern, but compared to the D3100, the ISO range has been doubled from 3200 to 6400, which will hopefully offset any issues.
Beyond the sensor, the D3200 shares some specs with the D3100 but got a few bumps where it matters. The expanded ISO, for one, and a new Expeed 3 processor — the same one in the D800. It shoots at 4fps continuous in full resolution, up from 3fps on the D3100. The LCD screen also got a big resolution bump — a more current 921k-dot, compared to the old 230k-dot screen. It's still not touchscreen, though. Autofocus is still 11-point, and it'll also have the D3100's guide mode, which explains camera features to new users. On the video side, it shoots 1080p at 24fps and 30fps, an HDMI-output and a new 3.5mm microphone input jack.
There's also an optional $US60 wireless mobile adaptor, the WU-1a, that will connect the D3200 to mobile phones or tablets. The adaptor will you access the camera's live view and control the shutter from the screen of your Android or iOS device.
The suggested retail for the D3200 and a basic 18-55mm VR kit lens is $US700. No word on the body-only price just yet. It's up for pre-order today and will ship sometime in late April.