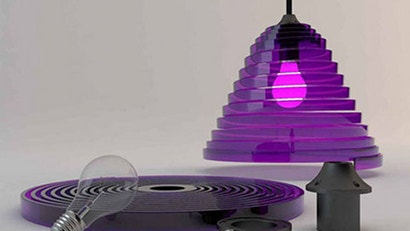 Netherlands-based Studio Mango has designed a clever collection of lamps made to ship in a super flatpack, using lucite coil springs and Lego-like bricks.
The company's Spring Lamp is a coiled length of violet lucite, which, when unfurled, hangs in a tiered bell shape of glowy translucent genius.
The Lygo Lamp ships as a set of 12-dozen unique Lego-like bricks that snap together to form a 50cm diameter circular lamp shade. The Lygo will initially be offered in five colour options: white, black, transparent, red transparent and purple transparent.
The lamps will debut later this month at Salone Milan 2012; they will be available for purchase later this year. [Lygo Lamp via Core77]