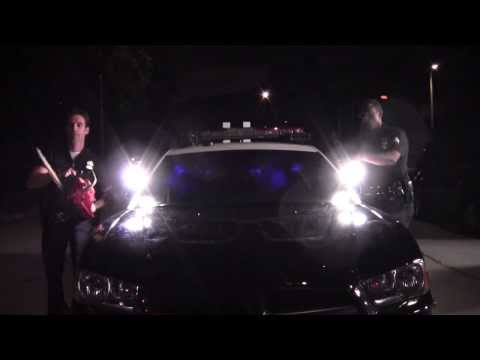 The big problem in northeast LA right now is that people keep leaving their car doors unlocked at night and stuff is getting stolen. LAPD's solution? 7-minute DIY zombie movie. Perfect.
---
---
"In the wake of the zombie apocalypse, innovative ideas have become more important than ever. Watch and take note on how to survive the "human apocalypse" in a special DED Talk presented by a zombie who has seen it all."
---
This prank is such pure evil genius that you can't help but laugh. And feel bad because you'd get freaked out too. Funny man Jack Vale scared the creepy crawly goosebumps out of people by asking strangers to take his picture with his iPhone.
---
As Joerg points out, toilet brushes tipped with nine inch nails are a much-beloved form of ammo on the Slingshot Channel. But the old toilet brush crossbows didn't really have a sighting system. So Joerg got serious and created a toilet brush sniper rifle, complete with telescopic sight, that can shoot with precision from 22 yards.
---
What better way to hold someone's attention through a CPR instructional video than with the use of brain-devouring zombies?
---
AMC has released a new, lengthy trailer to Season Four of The Walking Dead. Things seem to be going from bad to worse for Rick, Daryl and the rest of the gang with a possible zombie-baiting traitor in their midst. Check out the full trailer here.
---
When Joerg made metal-tipped toilet brushes a couple of months ago I'm pretty sure we were all thinking that they looked pretty tame. OK, true, they violently annihilated a coconut suspended in ballistic gelatin, but they weren't horrifying, just chillingly effective. But a four shot repeating "monster" crossbow. That would be scary. And that's what we have here.
---
State Of Decay — that awesome-looking zombie game once banned — has been reclassified as R18+.
---