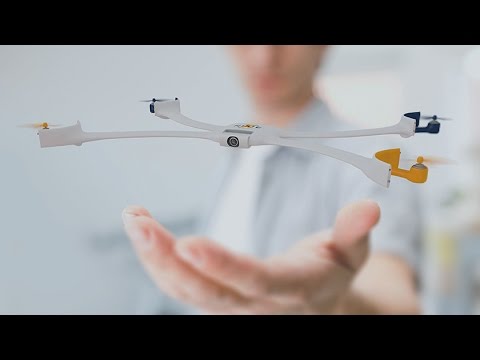 Meet Nixie, a wearable camera concept that flies off your wrist and turns into a remote-controlled quadcopter. It's the bizarre-yet-appealing wearable camera drone nobody asked for… and now I kind of want it.
---
If you're not going to be living too long in a place, decking out your temporary abode in recyclable cardboard furniture actually makes a lot of sense. It's cheaper than real furniture, you don't have to bring it next time you move, and with these modular TapeFlips sets you can actually build exactly the pieces you need.
---
Quirky's approach of bringing user-submitted inventions to life pre-dates Kickstarter by quite a few years. And the company's track record at successfully producing these often highly original creations means you can actually get excited about a wafflemaker that lets you create custom pixelated images every morning. What a time to be alive.
---
When it comes to cup holders, most of us are just looking for a place to secure our drinks while we're driving. It turns out we should be asking more of them — a lot more. Maksim Ghyvoronsky has invented a better alternative, an aftermarket set of cup holders that tilt and roll along with the motion of your vehicle, ensuring that nothing ever spills no matter how awful a driver you are.
---
If you roll your eyes when someone claims that inhabiting a massive luxury RV counts as "camping", you're not going to like this. As if showers, giant TVs and microwaves weren't already overkill enough, a bunch of crazy German automakers have created what is possibly the world's first motorhome with a convertible roof, letting you experience Mother Nature in total, windblown comfort.
---
Self-weighing suitcases aren't a new idea, in fact, they have been available in stores for years now. But in order to actually weigh the contents of your luggage, you need to zip the suitcase up and then lift the whole thing by the handle. To make things a whole lot easier, the TUL suitcase gives a running total of its weight as you throw things in, so there are no surprises.
---
Mountain goats have an uncanny ability to traverse the steepest of terrains without so much as the slightest misstep. So it only makes sense that if one were designing a prosthetic leg for human mountain climbers they would look towards nature's masters most sure-footed creations for inspiration. And that's exactly what designer Kai Lin did with his Klippa prosthetic.
---
If travelling to a different — and dryer — part of the world means you'll be waking up with dry sinuses and bloody noses every morning, a humidifier should be the first thing you pack. But not the giant machine in the corner of your bedroom, this tiny six-inch carry-on friendly plastic bottle from 11+ that's powered by USB.
---
As useful as Band-Aids might be for a quick fix, they're rarely easy to apply to your arms or other areas inaccessible to both your hands. And even when both hands are free, the sticky ends of a Band-Aid often end up stuck together if you're not careful. To remedy this, designer Pei-Chih Deng has created the one-handed Easy-Aid featuring a rigid backing that seems to solve all of a regular Band-Aid's failings.
---
The day a parent hands over the spoon to a toddler learning to feed themselves is the same day that meal cleanup becomes infinitely more involved. Overturned bowls and spills are inevitable, but possibly less frequent if this silicone placemat with a built-in segmented bowl succeeds in its Kickstarter campaign.
---