While extreme weather events seem to come and go more often than ever, our ability to forecast them does at least help us minimise risk to human life. But an impending weather satellite outage could make events like yesterday's devestating tornado even harder to predict — for up to three years.
---
The most iconic skyline in the world (or at least in America) would look completely different if it was on another world. On Venus, New York City would be a yellow haze, on Mercury would look glow in the dark, on Mars would make everything rusty and on Uranus and Neptune would totally obliterate the city.
---
Taking inspiration from a motorcycle helmet, which protects riders from the elements without hindering their line of sight, Stephen Collier created the Rainshader to be the next generation of umbrellas. And given it can survive Gale Force 7 winds up to 60km/h, it could be the last brolly you ever buy.
---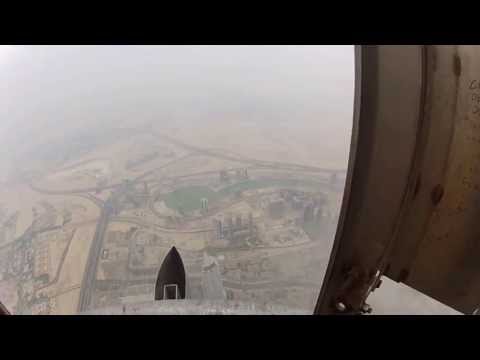 Dubai-based photographer Gerald Donovan went to the top of the tallest skyscraper in the world — the 830m tall Burj Khalifa — just in time to watch a sand storm engulfing the city. It wasn't a pleasant experience, but he captured it on this video.
---
---
For most of us, the weather dictates a lot of our day. Aren't you constantly checking the weather on your phone? Now, there's definitely a glut of weather apps available, and most of them you can write off. But Yahoo has released its own weather app today, and it's one of the prettiest apps around.
---
After Hurricane Sandy blew through New York in October, the lion's share of media coverage focused on the beachfront where damage was most visible. In lower Manhattan though, the 3m storm surge took a subterranean toll, ruining millions of dollars worth of mechanical systems and forcing many developers to consider how they'd retrofit for the next big one.
---
Dubai's Burj Khalifa skyscraper is a lot of things: a testament to humankind's love of building humungous stuff for the hell of it. It's very shiny! And, in a bad storm, it sounds like it's about to fall apart.
---
You'd think with all the tumultuous weather and winds the Earth experiences the planet would be covered in a fairly even mix of green space. But it's not. Some parts are covered in fertile rain forests, while others are barren deserts. And it's all because of a weather effect known as Hadley Cells.
---
We rarely think twice about the technological complexity behind checking the forecast on our smartphones. But an intricately detailed mechanical watch, like Breva's new Genie 01, that tells you what the weather will be like? There's something still wonderfully fascinating about checking a forecast that's produced and displayed via a series of complex analogue mechanisms.
---