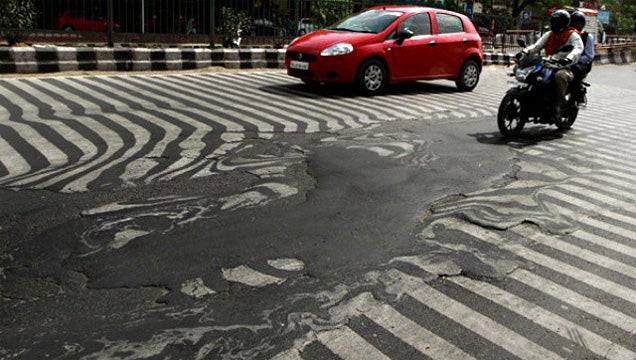 ---
To remote sensing scientists, peering directly into the eye of a tropical storm is like hitting a hole in one. That's exactly what NASA's CloudSat satellite did on May 16th, completing a stunning overpass of Typhoon Dolphin as the category 4 storm churned across the west Pacific.
---
---
The wall of wind-driven ocean that accompanies a hurricane is called a "surge" for a reason: This isn't a gentle rising of the water level, it's violent and destructive — sometimes more so than the hurricane's winds. This hurricane season, for the first time, the National Hurricane Center will be testing a prototype storm surge warning system which it hopes will be fully operational in 2017.
---
Video: Weather forecasting has come a long way, as the video below of a mid-century climate model illustrates. And if you're into vintage computer graphics, it provides some pretty nice eye candy too. The footage, recently published by the Lawrence Livermore National Laboratory, shows the first global general circulation model constructed by physicist Chuck Leith on the lab's supercomputers in the late 50s.
---
There's a moment in the Truman Show, when Jim Carrey tries to travel to Fiji (and escape his creep-o TV show island) and this poster pops up at a travel agency. It's funny because lightning strikes are such rare occurrences it couldn't happen that often. Surely, not often enough to necessitate a poster.
---
In Los Angeles, the transition from spring to summer is heralded by the blooming of jacarandas, a photogenic tree that explodes in bright lavender fireworks and sprinkles flowers across the city like purple rain. But as I Instagrammed my sneakers against the rubbery petals the other week, I had a nagging feeling — this was way too early for jacarandas to be blooming.
---