Loading page
Shugendo is an old religion in Japan that started in the 7th century that focuses on a spiritual experience or awakening of sorts with nature. There's more to it then that, of course. But this film by Mathieu Le Lay explores that world and follows Yamabushi monk Kosho Tateishi during his prayer rituals.
---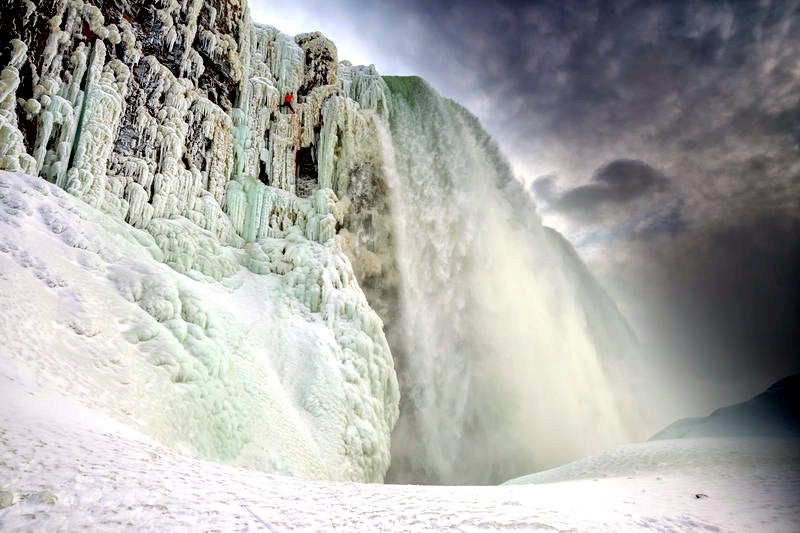 People have gone down the Niagara Falls, which is already nuts, but Red Bull says that ice climber Will Gadd is the first person crazy enough to go up the falls. As in he climbed a damn waterfall. The Niagara Falls was frozen over but Gadd gets impossibly close to the falls and somehow makes it to the top.
---
The Anacostia River that runs through Washington DC has historically been known as, well, not the cleanest river in the United States. A new elevated park straddling the river plans to filter the dirty water with a waterfall feature (apparently projected with Frederick Douglass's face). It's the winning design announced today for the city's upcoming elevated park.
---
This gorgeous video shot from a remote-control helicopter hovering over Niagara Falls lets you (nearly) feel the cool, refreshing spray. YouTuber questpact rigged a GoPro Hero3 to his DJI Phantom quadcopter to get this shot, his entry in DJI's Phantom Video Contest.
---
When you first see it, it looks like a perfect rainbow conforming to the contours of the river, trapped inside a waterfall. But then your brain realises that that's not possible. How are there colours in the water? How is there a rainbow at night? It's the trick of long exposure photography. And I can't stop looking at it.
---
Sisse Brimberg and Cotton Coulson — two veteran National Geographic photographers who have been married for 28 years — have captured this beautifully surreal image of waterfalls fully made of ice. I guess that those ice caps are really melting.
---
Loading page