Initially, access to water defined where humanity could grow and develop. But now the opposite is true, and we're the ones directing the future of our global water system. Watching that transition unfold is as sobering as it is stunning.
---
Turning water into ice usually takes a lot of time. Not for this guy though, he magically turns liquid water into frozen ice. It's instantaneous! Seriously, just watch water get poured from the bottle and then freeze immediately. What kind of sorcery is this?
---
Remember when music visualisers were all the rage about fifteen years ago? Or maybe that was just a music visualiser phase I went through alone. Either way, this art installation called "Sonic Water" puts a very literal spin on the concept eschewing any kind of simulation for a real puddle of water.
---
In one word: LOUD. In two words: Shattered glass. In three words: What the hell?
---
Sure, there's no air in space. But once you've overcome that rather urgent deficiency, you've got to deal with another one: no water. Thanks to science, astronauts can solve that problem by just drinking pee. Zero-G YouTuber and ISS astrodinaire Chris Hadfield explains.
---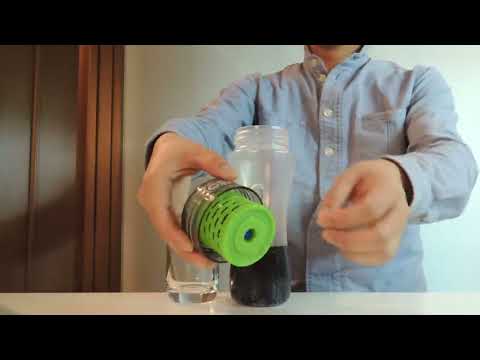 I have so many questions about being able to filter water out of Coke. I don't even care why. But does it taste like Coke-flavorued water? Or water-flavoured Coke? Or maybe even just carbonated sugar water without the cola? The guy makes it seem like it taste disgusting and that's the complete opposite of Coca Cola. Does that mean Crystal Pepsi is hiding inside Coke?
---
The most important thing you can pack for a long outdoor trek is water, which is why hydration packs are an ideal accessory. But trying to suck water through a long hose when you're exhausted, well, sucks. So Geigerrig is releasing a new pressurised hydration pack that's like having a Super Soaker strapped to your back.
---
Astronaut Chris Hadfield continues to make us all insanely jealous of the time he's been spending on the International Space Station with another video showing what day-to-day life is like orbiting the Earth. Except this time he shows what happens when you wring a soaking wet cloth in zero gravity, and the results are almost magical.
---
Slo-mo footage of wet dogs shaking themselves dry are a dime a dozen online. But wet dogs and wet hedgehogs and rats? Now that's something new, and we can thank BBC Earth Productions for this mesmerising footage.
---