A built-in battery-powered light is the easiest way to check the time on your watch in the middle of the night. But what if your watch doesn't have a battery? Schofield's new Blacklamp Carbon features a hand-wound movement, but still manages to stay visible in the dark of night thanks to a material developed by NASA called Moonglow that glows much longer than the stickers you decorated your ceiling with as a kid.
---
You don't think it's only laptop, tablet and smartphone designers that go the extra mile to make their devices thinner and thinner do you? Watch makers are constantly battling each other for the same notoriety, and now Piaget has reclaimed the title of 'world's thinnest mechanical watch' with its new Altiplano 38mm 900P that measures in at 3.65mm — making it thinner than many digital alternatives.
---
As a watch is handed down from generation to generation, the stories behind its life make it more and more valuable. And as far as past lives go, this Rolex, currently on display at the Beyer Watch and Clock Museum in Zürich, Switzerland, could top them all. It accompanied Sir Edmund Hillary on one of the most famous expeditions of all time — to the top of the world.
---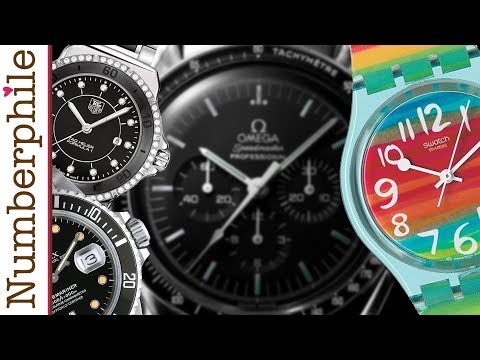 It's always 10.10 in watch ads, as this video shows. What the hell?
---
Typically it's a watch's hour and minute hands that make the journey around the face every day. But on Mykonos Design's innovative Visus watch, they're both parked at the quarter after mark — except that's not how you read it. The numbers indicating the hours, minutes, and seconds are instead constantly spinning, forcing you to adjust how you read the time.
---
If the only thing that gets you through a long day of work is drowning your sorrows at quitting time, this enabling timepiece is the watch for you. Five o'clock is the only hour that's clearly labelled, as far as the Ish watch is concerned the rest of the day is a fuzzy blur. But if you squint hard enough, you can make out the two moving dots that make up the watch's hour and minute hands.
---
---
It hasn't taken Garmin long to announce a successor to its Approach S2 and S3 golf watches announced earlier this year. But the latest edition to the lineup adds a feature that makes the S4 a must-have upgrade: Bluetooth, allowing the watch to relay notifications about incoming calls, emails and texts while you're battling to make par.
---