The human body at rest radiates 100 watts of heat — heat that does nothing other than make crowded rooms stuffy. But body heat can be converted to electricity, and new technology is always improving the process. With the rise of wearables, the body heat-powered device becomes an ever more tantalising promise.
---
I own one pair of boots. They're great boots. I know they'll last me a decade, if I take care of them. I also own a backpack — a very expensive backpack — with a lifetime guarantee that I'm sure I'll never have to use, because it's built to last. I'm not really so sure that I can say the same for most of the technology that I own, though.
---
Unless being late to a dinner date is a felony, Nooka's new line of DC Comics-themed watches won't give you any crime-fighting powers. What they will give you is the ability to show off your allegiance to one of five different DC universe characters including Superman, The Flash, Batman, The Green Lantern, and Wonder Woman.
---
Even if the mention of trigonometry, calculus or algebra gets your heart racing and your palms sweating, you still might appreciate this watch that demonstrates the first proposition in book one of Euclid's Elements. Because even if you don't know what that means, you can still look like you do, while still easily telling the time.
---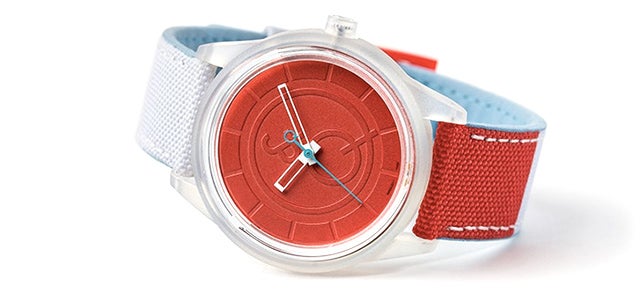 Based on the same technology that lets Citizen's high-end watches with Eco-Drive stay perpetually charged by the sun, Q&Q (a company founded almost 40 years ago as part of Citizen) has finally made its once Japan-only SolarSmile watches available internationally. So for just $40 — with free shipping — you can get a simple timepiece that never needs winding, charging, or a new battery.
---
Running watches are great for tracking distance and elevation you've travelled on your workout, but not for pushing your body to its limit while you're exercising. For athletes looking to seriously train their bodies, simple metrics on how fast or far they've run, swam, or biked aren't enough. So TomTom has updated its sportswatch family with a new Cardio version that now includes an integrated heart-rate monitor.
---
For years now, if you wanted a watch that could survive almost everything up to a nuclear war, Casio's G-Shock line was your goto timepiece. But Victorinox, maker of the venerable Swiss Army Knife, wants a piece of that market. So it's just unveiled its Inox line of 'Tonka-tough' watches that can seemingly survive any hardship.
---
Long before Samsung's Galaxy Gear entered the picture with its colourful LCD display, Tissot introduced a touchscreen watch to help alleviate button clutter. It was far from what we would now consider 'smart', but it made accessing the T-Touch's various functions a lot easier. And while the latest version still doesn't connect to your smartphone, it's now able to soak up the sun for near-infinite battery life.
---