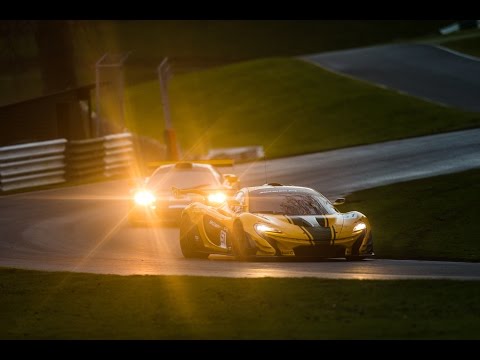 Video: As if the McLaren P1 wasn't beastly enough, the British hypercar manufacturer has announced a hardened track version — the P1 GTR — which is set to get its public debut at the Geneva Motor Show. In the lead up to the event, McLaren decided to dust off the spiritual father of the P1 GTR in the form of the old McLaren F1 GTR and pit them head-to-head on a track. The result is a flurry of amazing sounds that can only come from two of the best hypercars ever made.
---
If you've ever gone elbow-deep inside your computer to do some tweaking, you know all about the joys(?) of meticulously applying thermal paste or grease. Even if you're a pro at applying the goop, there's a trick that you probably don't know about: You can just use Nutella instead. Seriously.
---
Action cameras seem simple enough. Strap it to your head, hit record and go, right? While that's essentially true, your video may not turn out like the ones you see the pros making. So we wrangled up some of them up at the X Games, and got some simple, easy to incorporate tips that will kick your next video up a notch or two.
---
How hard can it be to blow up a building? My childhood experience with knocking over waist-high towers of cardboard blocks leads me to say "not hard," but this botched job by a demolition team in Sevastopol suggests otherwise. I mean, come on guys.
---
When the Miami's Patricia and Phillip Frost Museum of Science opens in 2016, it's going to have an absolutely bonkers aquarium — imagine a giant camera lens, tilted on its side, that lets visitors walk below the tank and look up into it. Building it, as you might expect, entailed a feat of perfectly-timed engineering.
---
Children of the '90s probably remember being educated by Bill Nye and his incredible array of bow-ties. But tweens these days probably don't really have the same attention span, so here's the great man himself, explaining evolution in 90 seconds through the medium of emoji.
---
YouTube just put out a list of the top videos of the year, and it will be no surprise that you've probably seen many of them before. Let's look back at your year in wasted time and lost productivity by wasting just a little bit more by watching these videos again.
---
You may have read reports a little while ago that electric future-car company, Tesla, was scaling down production operations at its Freemont factory to focus on gearing up for future models. It doesn't mean that Tesla is halting production for good, it just meant it had to build some different stuff for a while. Today the company has shown off what the renovated, expanded and shiny spanking new factory looks like on the inside, and it's impressive.
---