The Fast & Furious movies today are fun, blood pumping action movies with a few car scenes spliced in. But the original movie that kicked it all off, The Fast and The Furious, was pretty much all about cars. This 8-bit racing game version sums the movie up pretty well. I would have loved to play this game as a kid.
---
It's a dangerously day to be teasing awesome retro novelty products, but Hyperkin is at it anyway. The company just announced that the SmartBoy design concept it posted on Reddit — a special iPhone case that lets you play real, physical GameBoy cartridges on your smartphone — is for real. I'm so happy this isn't an April Fools' joke.
---
When they're young and still waiting for their first evolution, all a Pokemon dreams about is fighting in tournaments with a skilled trainer guiding the way. What they don't think about is that all those battles will take their toll, and eventually they're going to have to consider other work in order to pay the bills. At least Pikachu is embracing the corporate world.
---
Don't watch this video if you get queasy by pixel created blood and hyperrealistic video game gore. Because good lord the Fatalities in Mortal Kombat X are downright disgusting to see. If you remember the game, players are supposed to "finish" a character with a brutal Fatality move after a fight and these news ones are so graphic that they have caused irreparable damage to my soul.
---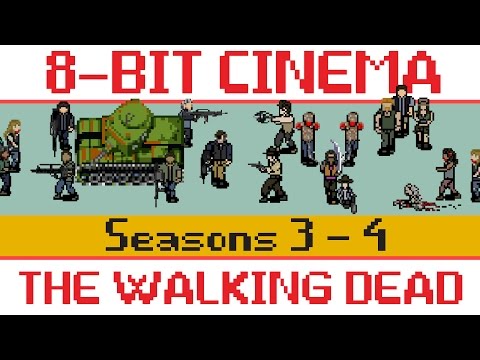 Video: CineFix is back with more 8-bit zombie deaths of The Walking Dead, this time focusing on season 3 and 4 (aka when the show left the farm and actually turned semi-decent for a little bit), and they sum up the story quite nicely. Zombies die, people die, a prison is taken over and Rick's gang fights a tank and a crazy person and somehow wins.
---
The maze that Pac-Man has to navigate in his quest to gobble up all those pellets is nothing compared to the laundry-covered floor that most of us have to tip-toe through on our way to the bathroom in the middle of the night. And while the ghosts in Pac-Man serve as a hindrance, this colour-changing pixelated lamp will actually help you get around in the dark.
---
Before the Game Boy came along, handheld gaming consoles were limited to just a single title, played on a low-quality segmented LCD display. At the time it was cutting edge stuff, but by today's standards they kind of suck. So to scratch his nostalgic gaming itch, Instructables contributor Andrew Hannay built his own Game & Watch with improved electronics so it could be loaded with multiple games.
---
Video: I'm pretty sure every Cheetos eater on Earth who has ever played a video game has wished that they could play themselves as a character inside a video game. This excellently edited and riotously fun video from Keren Banget makes that dream come true, he "put" his real human self inside a fighting game to fight video game characters.
---