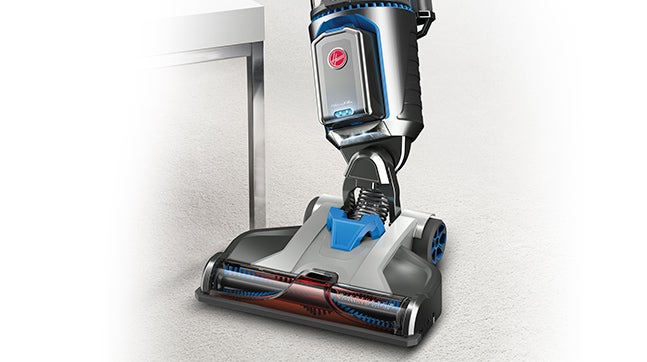 No one likes having to deal with cords, and they're a particular pain when connected to a device that's able to suck them up and destroy them. So Hoover's new Air Cordless vacuum manages to finally make a cordless vac that's actually useful with a pair of rechargeable batteries that keep it running for almost an hour with full suction.
---
---
Following hot on the heels of the Rydis H67 released just a few months ago, Moneual has revealed an updated version of its Roomba challenger with the Rydis H68 that introduces a capacious built-in reservoir — the largest on the market it claims — for holding cleaning agents, and a new system for more efficiently cleaning a room. Using 42 omni-directional sensors the bot automatically scans a room, tracks its own position, and then maps out the most efficient route that covers as much of the floor as possible.
---
When you hear the words 'vacuum' and 'USB' used in the same sentence, you probably picture a tiny keyboard cleaning tool with barely enough power to suck up crumbs. But Panasonic's hybrid MC-HS700G — now available in Japan — is a full-sized vacuum cleaner strong enough to lift a bowling ball that can also be charged from a USB port giving you up to 20 minutes of suction without a tether to a wall outlet.
---
You want a clean home? Sure, who doesn't. Too lazy to clean it yourself? Absolutely. iRobot's Roomba 880 — the latest in its series of robot vacuum cleaners — was made for you. It's the Rolls-Royce of highly motivated cleaning appliances, and it can take care of some serious dinge. Although it'll cost you some serious cash.
---
If you've got a mix of hard and carpeted floors in your home that you just don't feel like cleaning, you usually have to rely on two separate cleaning bots to get the work done. But you can write your Roomba and Scooba a letter of recommendation and send them on their way now that Moneual's new Rydis H67 promises to tackle both tasks with one machine.
---
With its new Freshness Center refrigerator, Siemens wants you to get rid of that freezer bag sealing contraption on your counter. In addition to the standard fridge and freezer compartments, the KG38QAL30 has a third drawer with a section that vacuum seals itself, preserving fresh foods like vegetables and meats up to five times longer.
---
It's easy to tell when hardwood floors are clean, but it's not so obvious when it comes to carpets. Who knows how much dust, dirt and debris are hidden amongst those fibres? So instead of randomly running a vacuum over every inch of your living room, hoping it's clean, Samsung's new Motion Sync vac tells with an impossible to misunderstand red light/green light approach.
---
Bladeless fans. Impossible hand-dryers. The best vacuums on the planet. These are the hallmarks of Sir James Dyson and his eponymous home appliance company that has attempted to change the world through innovation over the last 20 years. The one question remains, however: why won't Dyson make a robot vacuum? We spoke to a senior engineer who let us in on the secret.
---