---
Need massive yet fast storage that you can slip in a pocket? Samsung has just launched an external SSD using their new 3D V-NAND, but how much will it set you back here in Australia?
---
The days of having to wire up a complete replacement outlet to add a USB charging port will soon be long gone. The same folks behind the SnapRays Guidelight, a replacement cover that added night lights to almost any outlet in your home without wiring, is back with an even better product. Their new SnapPower Charger cover can be installed on any outlet, but instead of lights it adds a USB port for charging your electronics.
---
If those nesting USB plugs look familiar, you've been reading Gizmodo for a long time. Back in 2010, the stackable USB plug wasn't much more than a big-spoon/little-spoon concept, but now it's almost real — by which I mean it's on Kickstarter.
---
If you're a mischief-maker of a certain age, you'll remember the idea of the floppy disk bomb, a specially engineered floppy disk that would supposedly melt inside an enemy's drive. This USB is that same basic concept but evolved. It's designed to electrocute your computer from the inside out.
---
Remember those rumours about a 12-inch MacBook that ditched a MagSafe connector and traditional USB ports for a single USB Type-C port? If true, SanDisk's new Dual USB Drive will be the first flash drive that's able to connect to that redesigned hardware without an ugly adaptor.
---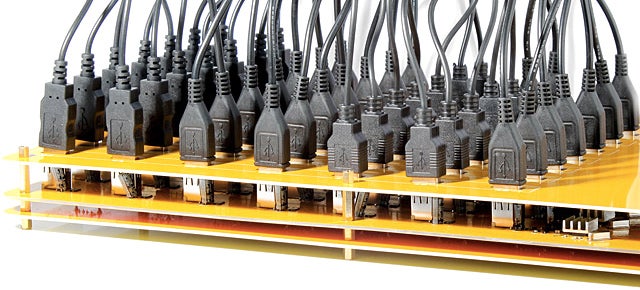 ---
It's not uncommon to bum a smoke, a ride or a piece of gum from a friend, but if a new Indiegogo campaign is successful, you might soon be able to bum a little bit of power for your phone as well. The Juicer is a simple double-headed microUSB cable that lets you transfer power from one tablet or smartphone directly to another.
---