A preliminary report by the Dutch Safety Board into what caused the devastating crash of Malaysia Airlines flight MH17 has confirmed what many already feared. The report explains that the plane was downed by "a large number of high-energy objects that penetrated the aircraft from outside", causing it to explode in mid-air. All 298 passengers and crew aboard the flight were tragically killed.
---
This weekend, Ukraine's band of pro-Russian militants bagged themselves a big old bird when they knocked this Soviet-era reconnaissance UAV out of the skies over Shahtersk.
---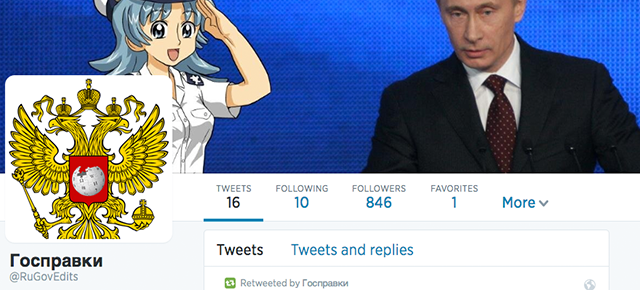 Remember @CongressEdits, the tweetbot that alerts whenever a Wikipedia article is edited from a government IP address? There's a Russian version now, and it just uncovered some pretty drastic edits to a Wikipedia article that mentions Flight MH17, originating from a Russian government IP address.
---
Ukraine has released audio from phone calls made between rebels and Russian officers after the downing of Malaysia Airlines Flight 17. You can listen to it here.
---
Border disputes are still going on in a bunch of places around the world. That makes life difficult for mapmakers, and especially difficult for the world's favourite online map service, Google Maps. As The Washington Post points out, Google strives to not get stuck in the middle of a territorial struggle, by showing you the border you most likely want to see based on where you're Googling from.
---
Ever since NASA retired its space shuttle program in 2011, the only way to get up to the International Space Station is on a Russian Soyuz. That's why the six humans currently orbiting in space — including two Americans and three Russians — might be paying attention to what's happening on earth 320km below. As tensions run high between the US and Russia over the situation in Ukraine, geopolitics may find its way into space again.
---
If there weren't already enough problems in Ukraine, it's now coming under heavy electronic attack too. Reuters reports that Ukraine's telecommunications system has come under attack in the past two days, with "equipment installed in Russian-controlled Crimea used to interfere with the mobile phones of members of parliament".
---
Earlier this week, surreal images emerged of Ukrainian protesters storming the palace of President Viktor Yanukovych, who fled the capital city after violent unrest. Now, protesters have made their way into another mansion, the home of attorney general Victor P. Pshonka. No ostriches, as were found on Yanukovych's estate, but there are Fabergé eggs!
---
Zello is a walkie-talkie app made by a small company based in Austin, Texas — but if you've heard of it, it's probably because you've been following the news in Venezuela or Ukraine. Some of its biggest users are protesters taking to the streets. The app's creators hadn't planned on getting involved in political revolutions, so you could say this is one hell of a pivot.
---