In the US, the FAA's rules about commercial drones have so far been ham-fisted: ban, except in special cases. And who knows how things will pan out in Australia where three Aussie entrepreneurs want regulatory approval to deliver parcels using drones. But what would a world where we live, play, and work next to drones look like? What would city zoning for drones look like?
---
The Ryan Firebee is widely considered the first true UAV developed by the US military, however, it was far from their first attempt. Take Operation Aphrodite, which loaded B-17s with high explosives and remotely crashed them into enemy targets, for instance. This early UAV program wasn't just an abject failure, it may well have changed the course of 20th century politics.
---
This weekend, Ukraine's band of pro-Russian militants bagged themselves a big old bird when they knocked this Soviet-era reconnaissance UAV out of the skies over Shahtersk.
---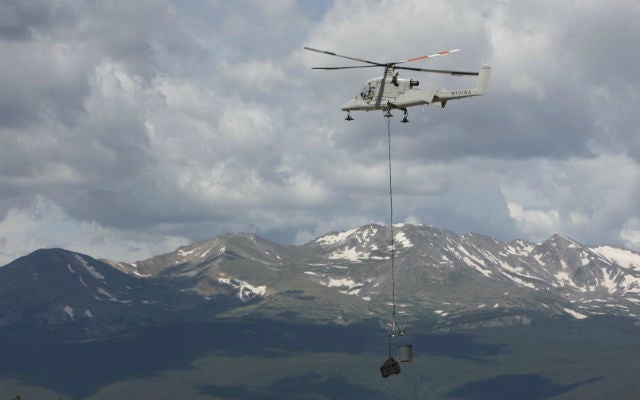 Even though it's still officially a prototype transport system, the K-max unmanned delivery helicopter from Lockheed Martin and Kamen has become a workhorse for US Marine Corps. But despite its strong showing throughout the War in Afghanistan, the future of this pilotless chopper remains uncertain.
---
The rapid exit of US ground forces from Afghanistan has caused an unforeseen problem for forces in the region: Afghanistan's most remote regions are suddenly out of range of our conventional turbo-prop UAVs, making CIA interdiction against the Taliban nearly impossible. But a new generation of jet-propelled Predator drone will soon take to the skies and venture up to 2900km from its base.
---
From 1983 to 1993, the US Government's DARPA program spent over $US1 billion on a program called the Strategic Computing Initiative. The agency's goal was to push the boundaries of computers, artificial intelligence, and robotics to build something that, in hindsight, looks strikingly similar to the dystopian future of the Terminator movies. They wanted to build Skynet.
---
The MQ-1 Predator UAV is one of America's most prolific and productive drones, having notched more than a million hours of flight time since its introduction in 1994. But that doesn't mean there isn't room for continued improvement to the platform. In fact, General Atomics has also been hard at work with a slightly less deadly version that can fly for twice as long.
---