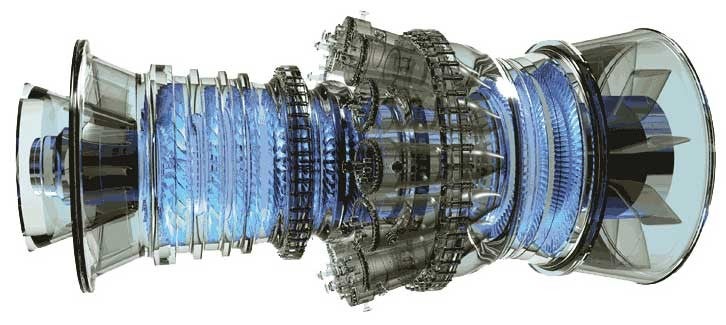 If you thought the GE90 aircraft engine was a masterpiece of modern engineering, just get a load of this beauty. General Electric's 9HA is the most advanced and efficient gas turbine available today and though it may not be able to lift a 787 off the ground, this potent electricity producer can easily power a mid-size metropolis.
---
Turbines are huge, intricate, beautiful machines. And if you drop something inside of them, they double as musical instruments. But as YouTuber AgentJayZ demonstrates, the delightful xylophone sound that makes is actually horrible.
---
The 109,000 HP Wärtsilä-Sulzer RTA96-C diesel engine is the largest and most powerful, but at 2000 tonnes, any warship it's attached to is going to have trouble outmanoeuvring jellyfish, much less torpedoes.
---
A Japanese company called Ibasei has developed a compact underwater turbine generator that could be a silver lining during natural disasters that cause intense flooding. The Cappa looks like a small jet engine from a plane, but it's actually designed to harness rushing water and turn it into free energy.
---
The first commercial offshore wind turbine that Siemens created 30 years ago had 5m long blades and produced a paltry 30kW. A lot can change over three decades. The company's newest offshore model isn't just the biggest in the sea; it's the biggest anywhere.
---
When complete, the Vestas V164 is slated to be the world's largest and most powerful wind turbine on the planet. Standing 135 metres tall, with a diameter spanning 164 metres, the turbine to generates eight megawatts of power. This is no child's pinwheel. In fact, it cranks out enough juice to power a whole neighbourhood.
---
There's a reason that wind farms are placed offshore rather than in urban areas — the turbines are typically huge, difficult to erect, and need a solid sustained gust to produce any meaningful amount of current. This prototype, on the other hand, will assemble more easily than an Ikea bookshelf and quietly produce kilowatts atop skyscrapers.
---
How do you inspect a wind turbine? It's actually a pretty tedious process that takes around four hours and involves someone standing out in a field, stopping the turbine and photographing any problems through a powerful telephoto lens. To make it infinitely easier, GE made a Spider-Man-like wall-climbing robot.
---