The threat of a tsunami is a very real thing for much of the Pacific coastline, yet many cities in the US haven't taken specific infrastructural measures to ensure their residents are safe when they happen. A new building in Washington will have the first purpose-built tsunami shelter in the country, offering accessible safety in a second-story room.
---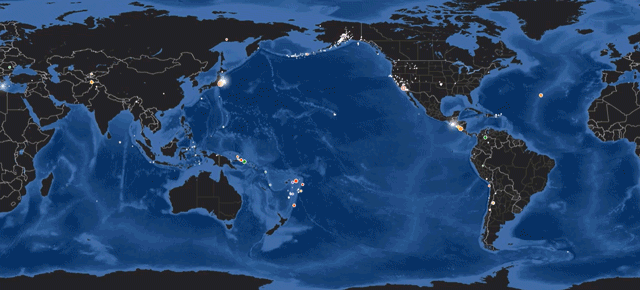 Didn't it seem to you that the ground was exceptionally shaky last month? That there were reports on big earthquakes happening somewhere pretty much every week? It wasn't just your imagination: April produced a higher-than-normal number of moderate-to-large earthquakes, and you can see it for yourself.
---
Waves come from the wind so tsunamis, which are basically bigger waves, must come from more wind, right? Not exactly. This cute animation explains that though normal waves are formed from above, tsunamis come from below from volcanic eruptions, landslides and earthquakes. They're the real monsters of the sea.
---
Deploying the improved infrastructure that will hopefully help prevent future tsunamis from devastating Japan is an expensive endeavour. So researchers are developing new and cheaper ways to protect the country, like this innovative floodgate that deploys automatically when waters come rushing in — no power or human operators required.
---
We've all seen the destruction that tsunamis can cause. It doesn't play around. But back in 1944, the US military wanted to play around with tsunamis in hope of creating a man made tsunami bomb — basically setting off 10 large blasts in the ocean to create a 10m tsunami that would pulverise and drown a city.
---
During last year's nuclear disaster, the deadly radiation inside Fukushima 1, became one with the surrounding environment, contaminating everything. Things aren't getting any better. Record quantities of the deadly radioactive isotope caesium-137 have just been discovered in the fisheries around Fukushima.
---