The Transportation Security Administration uses full-body scanners and other equipment to gauge whether travellers are a threat or not. And as much as it sucks to go through the TSA's invasive X-ray and scanning checkpoints, it turns out the TSA's tactics are pretty messed up even when they're low-tech.
---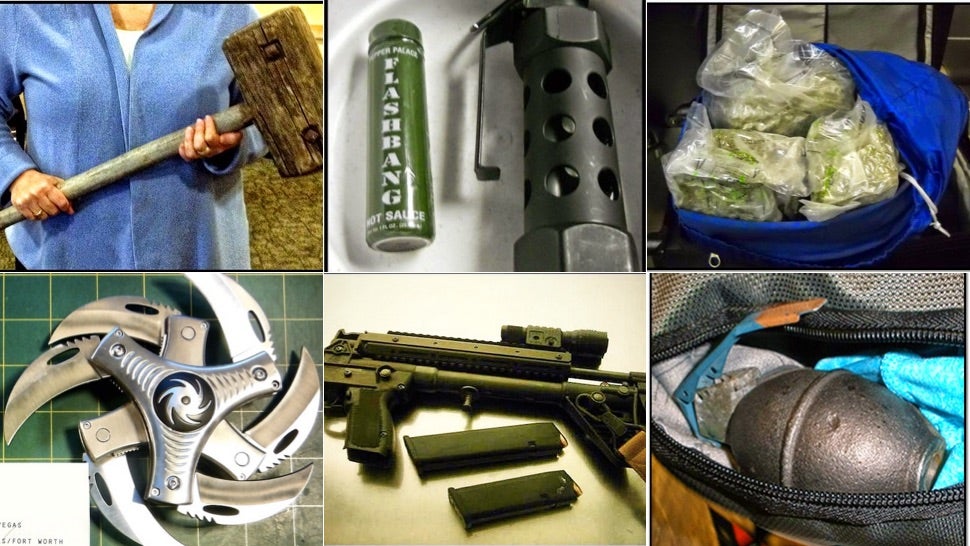 We may shake our heads at the TSA's antics from time to time, but the men and women holding you up at airport security are actually dealing with some pretty scary prospects. Like loaded firearms. And grenades. And daggers. And for whatever reason, a hell of a lot of sword canes. Here are some of the craziest things people have tried to sneak past US airport security in 2014.
---
If you're passing through security at the Austin-Bergstrom International Airport, do everyone a favour and make sure you have your phone's Wi-Fi or Bluetooth turned on. Sure, it might be a teensy bit of a battery suck — but it will also help tell everyone around you just how long they will be spending in airport security hell.
---
The TSA's full-body scanners never seemed like a very good idea. They're a great way to unwittingly show your naked body to government officials, for one. They're also insanely easy to trick. We've suspected as much for some time now, but a team of university researchers just confirmed some scary security flaws.
---
Airport security checkpoint lines are the very definition of a "necessary evil". Everyone hates the long waits and the awkward disrobing dances as you rid yourself of all your shoes, smartphones, metal, etc. Yet, we're eternally grateful when crazy people with samurai swords don't fly coach. Now, a new breakthrough in nanotechnology could help ease our collective dread for airport security, at least a little bit.
---