Headphones are part of daily life at train stations, an urban necessity used by commuters to drown out the flurry of action around them. But the other night at Union Station in Los Angeles, as I watched a woman crawl across the top of an information booth while a man's voice from another room whispered in my ear, the headphones I wore became a way to enhance, not ignore, the experience — like tuning into a pirate radio broadcast where the plot began to come to life before my eyes.
---
The MTA is always looking at different ways to redesign subway cars for efficiency, cost-effectiveness, safety, capacity and more. But their rate of ideas frequently outpaces their budget. According to The New York Times, a new design included in a 142-page release is being pushed heavily by planners, though, and could materialise in 30 to 40 years. The idea is articulated trains, or those with one continuous car that are designed like accordion buses.
---
We may have asked for video games, toys and bikes, but deep down every kid hopes that come Christmas morning they'll find a ride-on miniature train under the tree, with track laid all throughout their house. For the average kid, it's a fantasy that has little chance of coming true. But every kid eventually turns into an adult, and if you've got a good job and an extra $23,000 kicking around, you can finally make your childhood fantasy a reality.
---
Last week a train twinkling with LED lights chugged into Oakland's 16th Street Station, its final destination on a 4828km, 10-city whistle stop art happening orchestrated by Doug Aitken called Station to Station.
---
---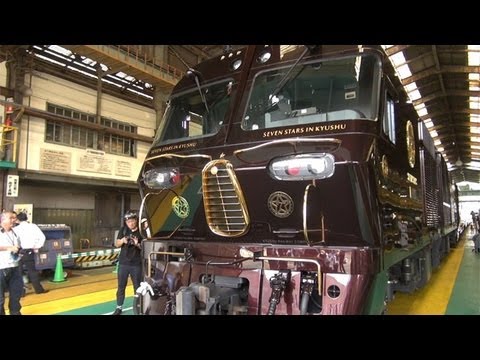 Beginning in October, travellers in Japan's Kyushu region will be able to tour the countryside in a state of opulence not seen since the days of the Orient Express aboard the new Seven Stars super-luxury rail car. Designed by Eiji Mitooka and operated by JR Kyushu, the Seven Stars — named after both the island's seven prefectures and the train's seven component cars — is the first such expedition train to shuttle passengers among Kyushu's numerous tourist attractions.
---
Station to Station is a project that brings "cultural interventions" to nine cities around the U.S.. Basically it's a tricked out train with lots of art installations and other pieces on board. And when the train stops in each city, there are additional local events planned. If you want to see what goes on on the train between stops, though, you have to look at designer Olafur Eliasson's work, "Connecting Cross Country With A Line."
---
We're all alive right now to know what 2013 is like. Some of us can tell stories about life 30 years ago. But most of us have no clue what life was like 60 years ago. This fantastic video by the BBC compares that whole timespan. It shows the same exact train ride filmed in 1953, 1983 and 2013 to reveal the difference over 60 years.
---
Nothing helps fill the silent void at an awkward dinner party like a piece of furniture with an interesting back story. Whether it's the couch you found inexplicably just abandoned next to a dumpster, a bookshelf that started life as a stolen stack of cinderblocks, or this truly unique mine cart coffee table that spent a past life hauling coal and other materials.
---