Gizmodo Video Guide: Here are some great ideas to get most out of the touchscreen on your new Windows 8.1 laptop or tablet.
---
Touchscreens are everywhere these days, and even though you've probably heard people mumble about the relative benefits of capacitive screens compared to resistive ones, you might not actually know how they work. This video explains.
---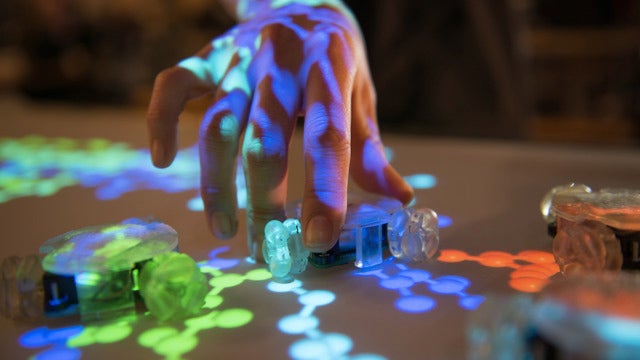 If there's still one complaint we all have about touchscreens, it's that we sometimes miss physical buttons. Whether it's a game controller, or a keyboard, having tactile feedback is often a better solution — sometimes. That's what led to the development of these tiny robot Thumbles that roll onto a touchscreen as needed to provide temporary physical controls.
---
There's a fear that touchscreen devices like smartphones and tablets will one day turn kids into lifeless, imagination-less zombies. But technology isn't all bad. And to bridge the gap between the toys of yesteryear and tomorrow, researchers at the National Taiwan University created a building block toy that can interact with apps on a touchscreen tablet.
---
Touchscreen displays in our cars aren't going away anytime soon. So designer Matthaeus Krenn figured that now was as good a time as any to radically improve their interfaces, replacing grids of ugly buttons and options with an elegant and minimal multi-touch UI — -that the driver doesn't need to look at.
---
The day we can all afford — and easily access — tables with built-in touchscreens, the world will be a happier place. Sure, you'll have to take extra special care of it, lest a wayward coffee spill brings your dreams of touch-based, living room nirvana to a wet, caffeinated end, but think of the board games! One option that brings us closer to a consumer-practical option is Ideum's tables, powered by Windows 8 (and soon Android).
---
Gorilla Glass, Corning's enormously sturdy scratch and crack-resistant touchscreen glass, is pretty impressive, found on billions of devices worldwide. Now, the glass maker has announced a novel manufacturing technique to make 3D shapes out of Gorilla Glass.
---
If this next-generation display technology developed by Asukanet ever goes past the concept stage, the days of huddling over an ATM display to block your balances from prying eyes could be over. With a viewing angle of just plus or minus 20 degrees, the Aerial Imaging Plate has a very specific sweet spot that ensures your private info stays private.
---