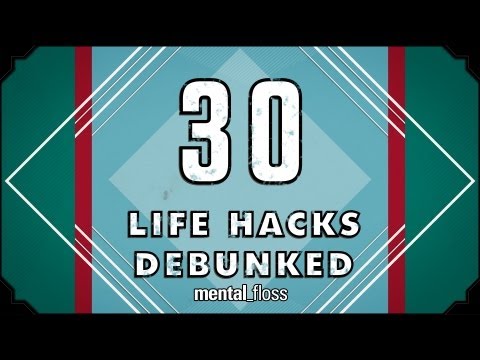 Our obsession with hacking life to become more efficient beings of human knows no end. We bookmark links that promise to make picnicking more enjoyable, we scour the internet for kitchen tricks and watch endless videos that promise anywhere from 7 to 101 life-changing tips. But how often do these life hacks actually stick? One out of every 100? Every thousand? It's like sifting for gold.
---
It's the little things, really. The little things that slightly annoy you that hover and buzz around you to make you a little less patient and a little more cranky. And when you're feeling a little off, little problems snowball into big problems and you're wondering why the hell you're screaming at your co-worker for no good reason.
---
Need a cheap stand for your iPad? Or what about creating a smartphone stand with sunglasses? Did you know a piece of tape could work wonders on an SD card? The helpful folks at Household Hackers have continued their quick and simple life hack videos with seven new ones.
---
---
With Google Reader finally dead and gone, it seems like as good a time as any to rethink the way we all look at the web. There's a whole wealth of browsers and widgets and apps and extensions out there that will try to alter your browsing experience. Some of them will change your life, other's won't.
---
Modern electronics can be fickle. With so many things to break, it's no surprise that one in four bits of consumer electronics gets returned to the manufacturer at some point in its life. But dealing with customer service is a nightmare of head-banging Greensleeves-playing call-centre torture, and if you're going to survive in that world, you'll need all the help you can get.
---
Cooking isn't difficult when compared with neurosurgery, but it is much easier if you have nifty equipment and a few sneaky strategies. Here are Gizmodo's favourite kitchen gadgets and Lifehacker's best tips for creating gourmet meals without spending five years learning to chop onions in a basement. (Though if you want to…)
---
---