Video: This amazing timelapse shows frog eggs transforming into tadpoles in a mere 30 seconds. The spawn of frogs is so impressive and so sudden and so perfect that it's easy to forget how complicated it is for Mother Nature to do that beautiful thing where she gives birth to life. Watch it all in the video below by Nipam H. Patel.
---
After three years of non-stop digging, the tunnels for Crossrail, London's new subway system, are finally complete. And while passengers won't be running through the tunnels for another three years, Transport for London has sent down a bunch of drones and timelapse cameras to give us a much better feel for what's been happening under London.
---
Video: The world is a beautiful place, but it's even more stunning when the ground acts as a mirror and reflects the sky. Here is a beautiful timelapse of the world's biggest salt flat in Uyuni, Bolivia, filmed by Enrique Pacheco. It's such a perfect reflection that you can't even tell which side is the sky and which is the ground.
--- Michael König's Sun is a spectacular timelapse compilation of our star from the Solar Dynamics Observatory from 2011 to 2015. It includes fantastic clips of solar activity, coronal rain, plasma eruptions, planet flybys, eclipses and more in jaw dropping clarity that you feel like it's alive, in an omnipotent God-like burning orb sort of way.
---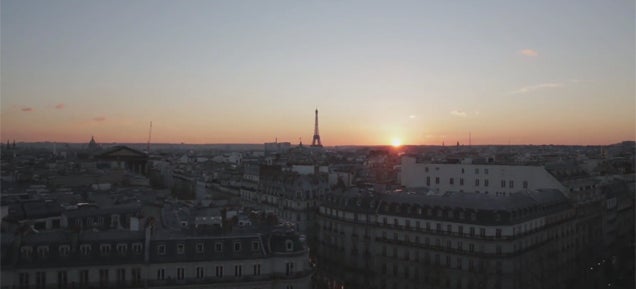 Video: Maxime Gaudet's hyperlapse experiment video of Paris lets you jump all over the city in 3 minutes. The video moves at such a frenetic pace that the feel of the video doesn't quite match up with the feel of the City of Love but it's still a lot of fun to watch because it feels like you're teleporting all over the place.
--- Seeing flowers bloom in a timelapse is always worth your eyeballs' time, but this timelapse is especially cool because it gives you a direct view straight inside the centre of a blooming flower. It looks a lot like looking through a dreamy world filled with different rules and different colours and different life.
--- 4K? That's so last year. 8K? Yesterday's news. This timelapse video was shot in an astonishing 10K resolution using an 80-megapixel camera. The level of detail in these gorgeous shots is mind-boggling.
---
Video: This time-lapse by Dominic Boudreault's is a beautiful, crystal clear view of Manhattan. Even after all these years of coming here it causes the same reaction of awe and wonder in me, both in real life or watching these animated images.
---