Video: The world is a beautiful place, but it's even more stunning when the ground acts as a mirror and reflects the sky. Here is a beautiful timelapse of the world's biggest salt flat in Uyuni, Bolivia, filmed by Enrique Pacheco. It's such a perfect reflection that you can't even tell which side is the sky and which is the ground.
--- Michael König's Sun is a spectacular timelapse compilation of our star from the Solar Dynamics Observatory from 2011 to 2015. It includes fantastic clips of solar activity, coronal rain, plasma eruptions, planet flybys, eclipses and more in jaw dropping clarity that you feel like it's alive, in an omnipotent God-like burning orb sort of way.
---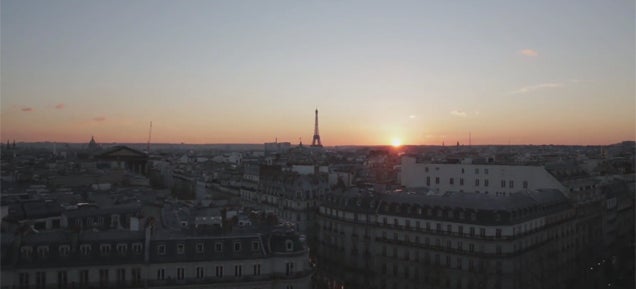 Video: Maxime Gaudet's hyperlapse experiment video of Paris lets you jump all over the city in 3 minutes. The video moves at such a frenetic pace that the feel of the video doesn't quite match up with the feel of the City of Love but it's still a lot of fun to watch because it feels like you're teleporting all over the place.
--- Seeing flowers bloom in a timelapse is always worth your eyeballs' time, but this timelapse is especially cool because it gives you a direct view straight inside the centre of a blooming flower. It looks a lot like looking through a dreamy world filled with different rules and different colours and different life.
--- 4K? That's so last year. 8K? Yesterday's news. This timelapse video was shot in an astonishing 10K resolution using an 80-megapixel camera. The level of detail in these gorgeous shots is mind-boggling.
---
Video: This time-lapse by Dominic Boudreault's is a beautiful, crystal clear view of Manhattan. Even after all these years of coming here it causes the same reaction of awe and wonder in me, both in real life or watching these animated images.
---
This is so cool. Usually, timelapses show the night sky of stars moving around Earth but we know that's not true, it's Earth that's moving and rotating and turning. Photographer Lance Page made this time lapse to represent our Earth turning by making the camera move along with the North Star. That way we see our world move while the stars stay still.
---
First discovered in Wyoming, the world's most complete Stegosaurus skeleton has found a new home across the pond at the Natural History Museum in London, England. And you can now watch the museum's curators and palaeontologists re-assemble one of the world's oldest and best-preserved jigsaw puzzles. The process originally took about four hours, but this timelapse of the entire assembly will demand just 24 seconds of your limited attention span.
---
Video: Here's a clever video that shows the "formation" of a snowflake. It's actually footage of a snowflake melting, but it's played in reverse, so it seems like we're seeing the birth of a snowflake. But even though it uses that bit of trickery, it's such a beautiful process to see. I wish we could see it in real life.
---