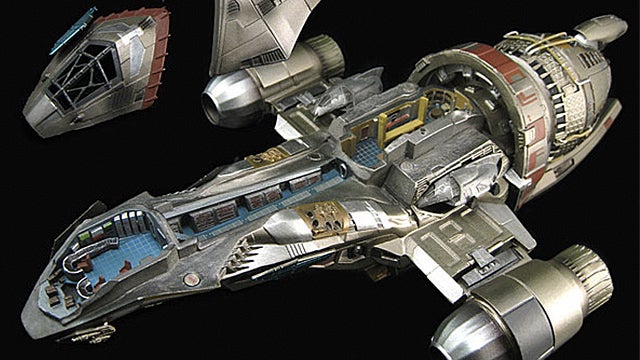 For years there have been countless toys and models letting you take a peek inside ships like the Enterprise from Star Trek, or the Millennium Falcon from Star Wars. And now browncoat-wearing Firefly fans finally have a beautifully-detailed model of Serenity to put on their mantles as well — or just secretly play with while their family's aren't looking.
---
It's been said it's not wise to upset a Wookiee, but turning one of them into a rug, how could that possibly go wrong? You won't find a more luxurious pelt in the galaxy, and unlike that gleaming white Wampa fur, you can spill all the Juri juice you want on this Chewbacca rug and no one will be the wiser.
---
Briefly: Does your office have a festive dress code for its Christmas party? Not a problem, just grab this $US20 Bat-wreath tee from ThinkGeek and you'll easily pass muster. It sadly doesn't light up — which is an absolute Bat-tragedy — but it's still a wonderful take on holiday decor that lets you express your love of comic book heroes and pine boughs. [ThinkGeek]
---
Given the immense popularity of the Super Mario games and their countless spinoffs, you'd have thought that Nintendo would have been eager to get action figures of the characters into kids' hands from day one. But it's only recently that we're finally seeing detailed and suitably articulated Mario figures that do justice to our favourite mustached plumber.
---
If arcades were part of your childhood, you've probably yearned for a cabinet of your own for playing classics like Pac-Man or Galaga. The only downside is they're not exactly portable, here's a better solution. This arcade cabinet stands just eight inches tall, so you can carry it anywhere, and it uses a Raspberry Pi to run the MAME emulator, so you can install countless classic games.
---
The exact reason why people feel the need to adorn their lawns and gardens with ceramic gnomes may never be known, but maybe it's a not-so-secret way to show their allegiance towards a race of tiny human-like fantasy creatures? If that's the case, why not instead display your loyalties for something a little more based in reality? Like the giant walking robot AT-ATs from The Empire Strikes Back.
---
The folks at ThinkGeek put so much effort into their April Fool's Day prank products every year that often times they end up turning them into a reality. Remember the Star Wars Tauntan sleeping bag?, that started life as a prank. And of all the wonderful products ThinkGeek pretended to announce on April 1 this year, the Back to the Future Flux Capacitor car charger is the one to get the IRL nod.
---
The only thing more satisfying for Star Trek fans than fast-forwarding through Enterprise's awful opening credits would be doing it with this wonderfully detailed phaser prop universal remote. Created using 3D scans of the actual hero prop used on the original Star Trek series, the phaser remote will be officially revealed at ThinkGeek's San Diego Comic Con booth next week.
---