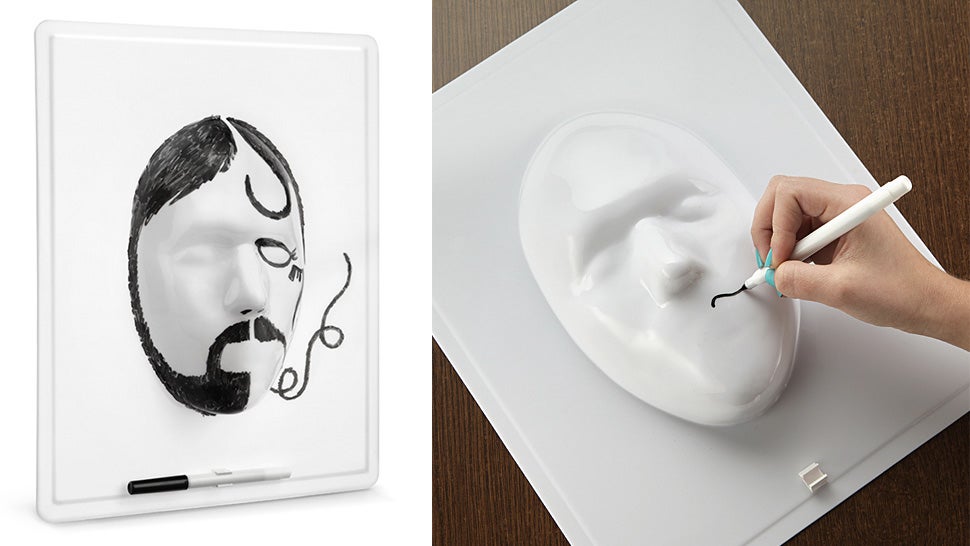 Hilarious caricatures of bosses and uptight managers are a staple of any office. But unless you work in a design studio filled with artists, deciphering who a doodle is supposed to be can be tricky. Unless you've got this whiteboard featuring a 3D face relief that lets even number crunchers create erasable masterpieces.
---
Imagine walking into the world's biggest toy store except that everything you see is completely brand new — and you can't buy any of it just yet. That's exactly what covering Toy Fair — the toy industry's annual trade show — is like. It's a tantalising glimpse into what kids will be begging their parents for over the upcoming year, and we've sifted through all the hoopla to bring you the best of the best.
---
Refusing to acknowledge that Tetris and Jenga are both incredibly challenging in their own rights, ThinkGeek has mashed the two of them up into a new game that has you stacking 3D tetromino-like pieces on a game board that actually hovers. Not even that crazy multi-level chess game in Star Trek seems this futuristic.
---
You might think you need a watch that can check email, control your music, and even stay on top of Twitter updates, but you've been misled. ThinkGeek's new Classic Arcade Wristwatch is all you really need strapped to your wrist, especially if you're old enough to remember a time when beating a video game required a pocket full of quarters.
---
These days, a set of Velcro straps across the top of your kicks just isn't enough to impress your sneaker freak friends. To guarantee you're the envy of everyone on your block, forget about dropping hundreds on the latest pair of Nikes — instead, strap a pair of these Light Kicks LED strips to your feet.
---
The original Laser Tag game was a huge hit back in the 1980s, though the campy ray guns, clunky helmet and embarrassing sensor vest just aren't fashion forward these days. But it's still fun — which is why ThinkGeek has resurrected the old game, giving it an updated look that includes a stylish windbreaker jacket, smaller sensors and an arm-mounted laser blaster.
---
Not so long ago, hopping onto the internet required more than just opening a browser. In the dial up days you'd have to wait for your modem to screech and squawk as it connected. Looking back through years of nostalgia, those sounds were strangely satisfying and often times melodic, which explains why someone has created a tiny electronic keyboard that lets you turn a dialup modem's sounds into your own symphony.
---
It started life as another one of ThinkGeek's impressive April Fool's Day prank products, but like the Tauntaun sleeping bag before it, there was enough demand from the site's fans to make the Technomancer Digital Wizard Hoodie a reality. If you're a cosplayer who's ever dreamed of magical powers, you better go get your credit card.
---
The simplicity of the Rubik's Cube puzzle is what makes it so devilishly difficult to solve at times. It's just a bunch of coloured squares, but getting them to group together can be a life's pursuit for many people. So who in their right mind thought that taking the Rubik's Cube formula and adding mathematical patterns of numbers into the mix was a good idea? Clearly someone with a deep love of mathematics, or a sincere hatred for humanity.
---