The only thing more satisfying for Star Trek fans than fast-forwarding through Enterprise's awful opening credits would be doing it with this wonderfully detailed phaser prop universal remote. Created using 3D scans of the actual hero prop used on the original Star Trek series, the phaser remote will be officially revealed at ThinkGeek's San Diego Comic Con booth next week.
---
The infinity mirror trick is as old as time, but the folks at ThinkGeek have come up with a fun new application that will appeal to Dungeons & Dragons fans who find themselves stuck at a desk job during the day. Peering down the seemingly unending hallway of this miniature Infinite Dungeon Corridor leaves you wondering what quests, treasures or mythical beasts lie at the end.
---
If there's one common feature among all the cool hacks and DIY projects you'll find online these days, it's that they're usually made with an Arduino microcontroller of some sort. But if you lack the programming and electronics know-how to use an Arduino to bring your own creations to life, this simple starter kit will walk you through the basics.
---
= Jupiter is not only the largest planet in our solar system, it's also arguably the most stunning. Those massive storms — including that enormous red eye — produce quite an atmospheric show. And as a cheaper alternative to a giant telescope, this tiny desktop-sized version of Jupiter lets you stare in awe at the gas giant when you probably should be working.
---
As far as movie sidekicks go, it's hard to find one as invaluable as Star War's R2-D2 was. That little droid was always in the right place, at the right time, with the right tool to save the day. And that now includes your kitchen with this R2-D2 measuring cup set that helps ensure your baking ingredients are always perfectly proportioned.
---
Even if the mention of trigonometry, calculus or algebra gets your heart racing and your palms sweating, you still might appreciate this watch that demonstrates the first proposition in book one of Euclid's Elements. Because even if you don't know what that means, you can still look like you do, while still easily telling the time.
---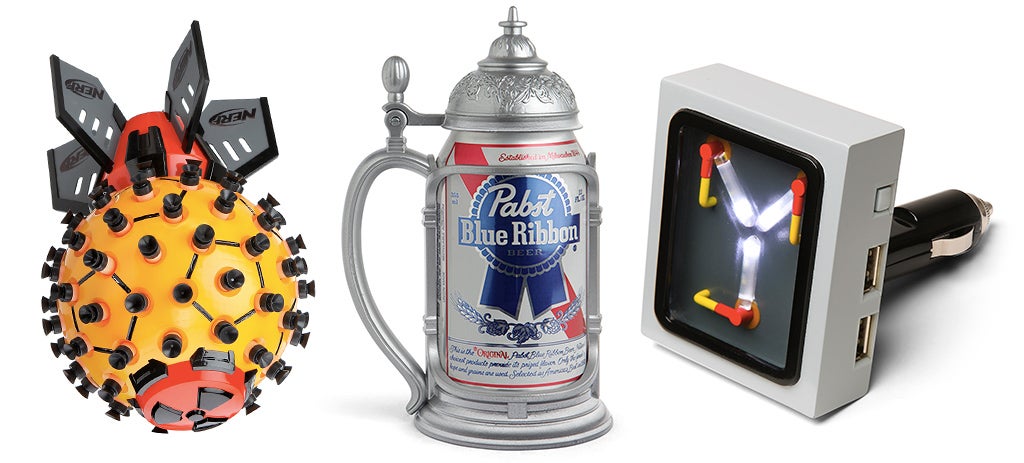 Thanks to the hardworking folks at ThinkGeek, the absolute worst day of the year is once again made a little more bearable with a bunch of April Fools' Day prank products that are all actually kind of awesome. And not only are ThinkGeek's prank products remarkably convincing, they're often very plausible.
---
Back when Pluto had some status in our solar system, a handy way to remember the names of the planets was the 'My Very Educated Mother Just Served Us Nine Pizzas' mnemonic, where the first letter of each word represented each celestial orb. But it's just confusing now that Pluto's gone, so maybe a set of planet-themed plates might be a better learning tool.
---