Video: The Simpsons opened its 26th season with this surprisingly bizarre couch gag. Oscar-nominated animator and filmmaker Don Hertzfeldt asked himself what the Simpsons will look like in a very distant future. Well, this is what he came up with.
---
I hope you managed to snag a case of delicious(?) Duff Beer before this weekend: you'll struggle to find it on Aussie shelves after today following a complaint that saw it fall foul of alcohol advertising standards.
---
---
Briefly: Jason Torchinsky — the dangerous lunatic and Beetle nutter who writes for Jalopnik — has done it once again, ladies and gentlemen. He just produced another awesome post, perhaps his best ever: A Guide to Every Real-World Car Used In The Simpsons, just in time for its 25th anniversary. Neurons blown.
---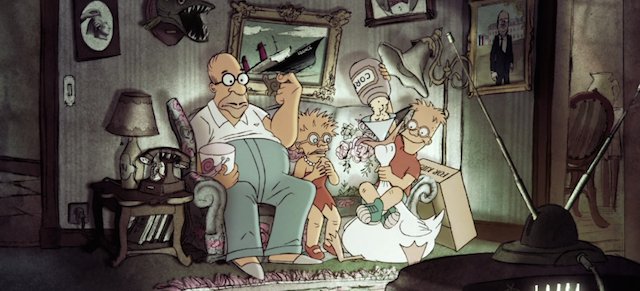 ---
Google Glass is demonstrably creepy, sure. But at least at this point it's still just a plaything of the tech elite — not that it will stay that way for long though.
---
Make sure you keep Lisa's ears close to her eyes and nose, but also make sure the nose line is perfect and overlapping the eye. Also, don't forget to keep a streamlined curve to the face and keep the eyes round. This is important! Lisa Simpson, an iconic cartoon character as there is, is instantly recognisable anywhere because of the details put into drawing her. These instructions, which first appeared in Simpsons Illustrated years ago, reveals how detailed a cartoonist needs to be.
---
If you're old enough to remember when The Simpsons was just a series of animated shorts on the The Tracey Ullman Show, you'll probably feel even older when you realise that as of this year the show has been on the air for a quarter of a century. And what better way to celebrate its success than by immortalising the characters as plastic over-sized toy potatoes?
---
In an episode of The Simpson's called The Wizard of Evergreen Terrace, Homer appears to write a valid solution to defeat Fermat's Last Theorem on a blackboard. But given that Fermat's last theorem is proven, is it real?
---