Because we live on the Internet and we're supposed to love certain things like bacon and cats and net neutrality, we almost unanimously bow in adoration towards one Nikola Tesla. Anybody who thinks anything different is yelled at with all caps for being anti-science, anti-electricity and anti-life. But the truth is, the Tesla of the Internet's memory is clearly different than the real Tesla. So much so that you can consider Tesla as two Teslas.
---
The Tesla Model S is a pretty special car that hides a very compelling secret. Underneath the demure, unassuming exterior beats the heart of a serious speedster. Check out this video of a Tesla Model S taking the new Aston Martin Rapide S to task.
---
Tomorrow, Tesla Motors chief Elon Musk will finally reveal his concept for a high-speed transit system called Hyperloop. The Hyperloop, according to Musk, will be able to whisk you from downtown Los Angeles to downtown San Francisco in roughly the time it takes to watch an episode of Veep (around 22 minutes for those who dislike awesome TV). He's been intentionally vague about details — but that doesn't mean we can't make some educated guesses about how he's going to pull this off.
---
Elon Musk, enthusiastic entrepre-nerd that he is, might have gotten a little bit ahead of himself with all the Hyperloop talk recently. On an investor call, he indicated that he has a pretty good idea about the design for the high-speed travel concept, but no plans to move forward with it — at least not with the gusto he's pursued lofty goals like electric vehicles and private space exploration.
---
The incredible Tesla Model S sedans have already started rolling off the production line to their lucky new owners in the US, but many Aussies seem to still be waiting on a piece of four-wheeled future to call their own. New information, however, might give us some indication of when the Tesla Model S might be rolling into Australian garages.
---
The 2013 Tesla Model S is one of the most flagrantly gorgeous automobiles ever to taunt the unwashed masses. This 11-second video illustrates one of the reasons why you'll never be able to afford one: retractable, motion-sensing door handles. Our eyes are currently green with envy (which only makes the car look cooler. Tch.)
---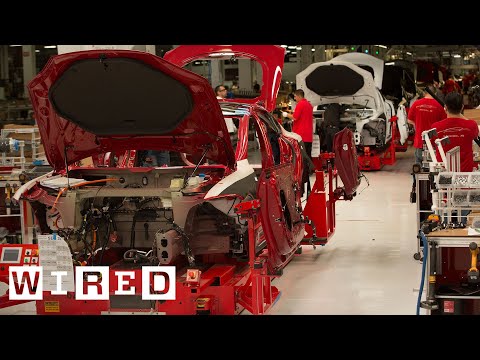 It can't be easy to build a car, but the factory where Teslas are born makes it looks like a piece of cake. The folks over at Wired took a look behind the scenes to watch rolls of aluminium transform into fully functional electric cars, and it's a sight to behold.
---
The US government's green car program has been under scrutiny with the recent failure of two of the companies that received the loan, including coverage of a $US675 million lawsuit by an inventor claiming he was denied funding for his inflatable electric car company because of politics. What hasn't gotten much scrutiny is the unsuccessful serial inventor behind the lawsuit.
---