Cities are generally hotter than regional areas, due to something called the urban heat island effect; black tarmac on roads and dark suburban roofs can raise temperatures by up to eight degrees Celsius. This means more energy devoted to cooling and air conditioning. The City of Sydney is trialing a lighter colour of asphalt and pavement that reflects more light, reducing the city's overall energy requirements.
---
---
Uber is a taxi app that's making waves all around the world. It mainly operates on an "ask forgiveness, never permission" model when launching in a new city. Uber Sydney has been trialling low-cost UberX ride-sharing services for a few weeks, and the New South Wales Government has reminded them that it's against the law. Uber Sydney is now giving said government the bird, taking UberX live to the whole city and rubbing the bureaucrat's noses in it.
---
---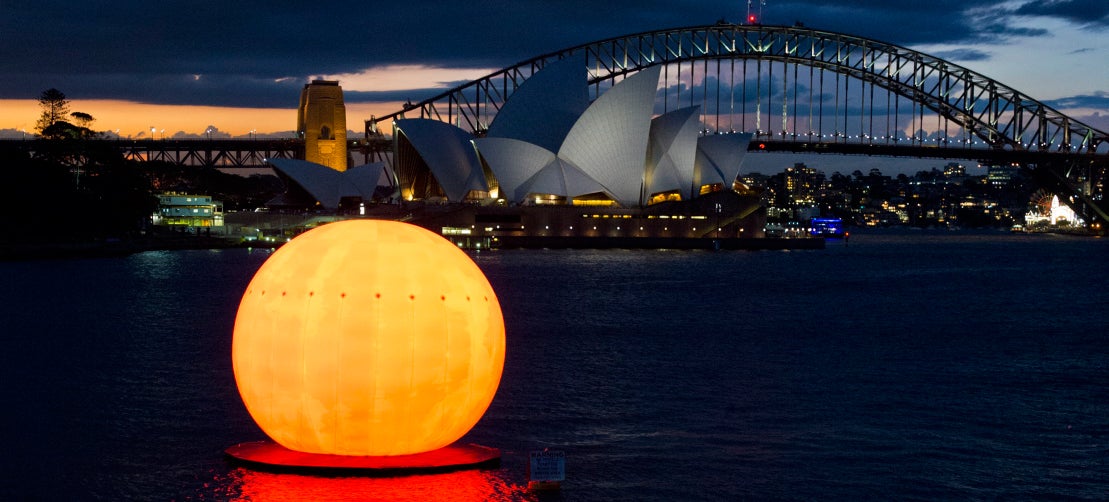 The (floating) sun also rises in Sydney Harbour — in this case, for Opera Australia's outdoor production of Madama Butterfly. Each night, the sailcloth orb is inflated by two fans and illuminated by 12 LED lights. "Orb master" Andrew Tindal-Davies sits inside, making sure the sun rises without a hitch. [James Morgan for Opera Australia]
---
Briefly: Remember that crazy storm that hit Sydney a few weeks back? It looked like a giant alien ship was to emerge from the cloud and lay waste to all we held dear. Someone was smart enough to pull out a 4K camera and start recording what turned out to be a gorgeous-looking time-lapse.
---
---