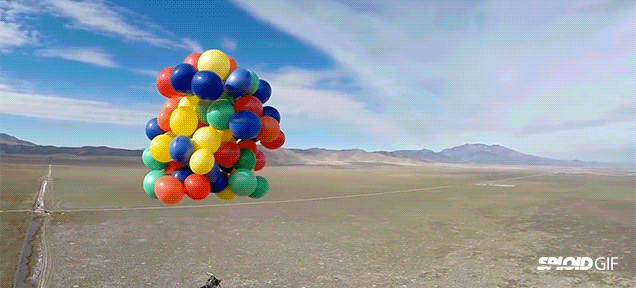 Every person who has seen the movie Up — and also enjoys dreaming about fanciful things every now and again — has thought about flying away in balloons like Carl Fredricksen. Professional daredevil and crazy person Erik Roner just did it. He bought tanks of helium to pump up giant balloons to make him fly.
---
Video: Edge of Tomorrow was a pretty good movie — and spectacular too. So much that I thought most of the stunts and effects were computer generated. But no, a lot of those explosions and jumps were completely real, as this complete behind the scenes B-roll footage shows. Very impressive.
---
There are certain things we all look for in a huge passenger jet: safety, stability, comfort… but what about some insane acrobatics? Well, you'll be pleased to see that the Boeing 787 Dreamliner can certainly provide the latter.
---
What would you do if you came upon an abandoned stroller with a crying baby inside? You'd probably check to see if the infant was OK, right? Not after watching this prank you won't. The same team responsible for that wonderful telekinetic coffee shop freak out prank is back with an even more terrifying marketing stunt involving a possessed devil baby and a stroller with a mind of its own.
---
You know you've been watching too much Top Gun when you find yourself skimming a few feet above the ground and mere inches above your cameraman in an antiquated aeroplane from the 1940′s. Who exactly decided this was a good idea? Details on this low-flying stunt are pretty slim save for the assurance by the clip's creator that it was performed "at a private air strip no one around for miles and there was no dogs cats are birds harmed in the making of this video." Well, seems they'd really thought this through before trying it.
---