If you live in a fairly well-populated city, you've probably been visited by one of those Shaolin Warrior travelling shows. But the next time they roll through your town, you should save your money and instead queue up this fantastic high-speed footage of their incredible acrobatics as captured by BBC Earth Productions.
---
---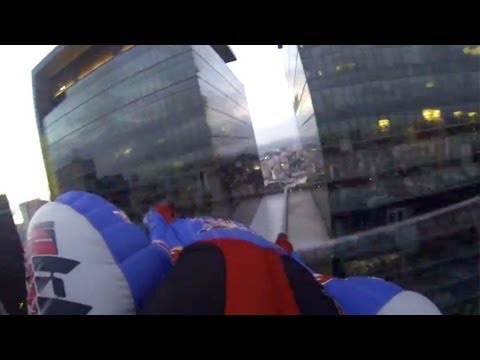 When you go sky-diving, there's that all-important business of making sure you don't slam into the ground, but you also have to make sure you don't slam into anything protruding out of it. This pair of urban wingsuit daredevils who dove into Rio de Janeiro came damn close to the latter when they zipped through a small gap between to skyscrapers.
---
It turns out that supersonic man Felix Baumgartner was even more supersonic than we previously thought. He actually reached 1357.6km/h, which is 1.25 the speed of sound. His heart rate was extremely high at the exact time of the jump.
---
Look, I know the BlackBerry Z10 looks great, but I just can't believe that some of you are doing these stupid things to get one for free.
---
As a follow up to the most epic stunt we've ever seen, random people who push a mysterious button in the middle of a street find themselves entangled in a ridiculously intense prank complete with assassinations, flying money, a kidnapping, guns and naked people. This awesome stunt has it all.
---
Sometimes things on TV can look so real that we think it's happening in real life. That's the magic of the moving pictures! Like this fake plane crash for the TV show Chicago Fire, it fooled the news broadcast WGN-TV and tricked real people on the ground too.
---
Lasha Pataraya has an unusual gift. He's not just insanely strong: he has insanely strong ears too. And that's why he was able to use one of them to pull an eight-ton truck.
---
It might sound terribly morbid, but part of the fascination of watching a human perform a dangerous tightrope walk is the risk that they could potentially fall. So when you've got a robot risking its life, the stunt is considerably less exciting.
---