---
Guaranteeing supreme festive superiority for any tree it hangs on, this glowing Death Star ornament is actually a fun DIY project you can use to keep any kids — or restless adults — entertained leading up to the holidays. And the project lets you blur the line between being the Emperor and Martha Stewart — a line that may not actually exist.
---
Do you want to buy a house or a piece of Star Wars history? Would you like a Ferrari or the DL-44 Blaster that Harrison Ford used? A college education or a toy gun? The answer is obvious right? It's Han Solo's DL-44 Blaster every time. The blaster pistol made famous by Han Solo is up for auction and it's expected to fetch more than $US200,000. Let's pool our money guys.
---
Music parodies make for easy listening — well, the good ones — and it certainly helps if you're melding the melodic awesomeness of Queen's Bohemian Rhapsody with the everlasting sci-fi cool of Star Wars. Fortunately for us, this exact combination can be witnessed in the clip above and it is, most definitely, a glorious occurrence.
---
Your dream of cruising around your local galaxy with your feisty astromech droid by your side simply isn't going to happen in your lifetime. It will be years before robots can even pick up a wrench and remove a bolt by themselves. But ThinkGeek's got the next best thing. It won't fix your warp drive, but perched in your cup holder this tiny version of R2-D2 will keep your phones and tablets charged.
---
There have been hundreds of Star Wars books and comics that extended the universe beyond the Return of The Jedi films, but this two-minute short brings what could be an awesome story arc to the fold in beautiful detail.
---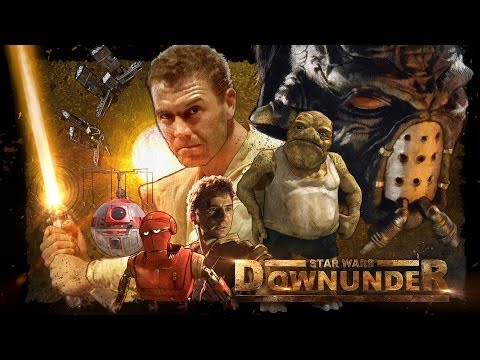 I take back everything disparaging I ever said about the fan-film Star Wars Down Under. This is the best fan recreation of the Star Wars universe I have ever seen. Watch this. Right now.
---
Tom Spina Designs has a long history of bringing wonderful Star Wars-inspired creations to life. We still wish we could have snatched up the Han Solo Carbonite desk the company created, and now we desperately want these brilliant sculpted modular tiles that make any surface look like you're up close and personal with the Death Star.
---