The weather and lighting conditions on a snow-covered mountain can change in a heartbeat. But instead of carrying around a small collection of swappable tinted goggle lenses to match the conditions, UVEX's new Snowstrike VT goggles employ a thin LCD in the lens that can instantly switch between clear, red, blue and violet tints.
---
Data Looks Dope's Max Einstein just made this visualisation that charts every touchdown pass that Peyton Manning, who is now the record holder for TD passes, has thrown in his career. Yep, all 510 of them (so far). It shows the distance of each pass along with the receiver who caught it from 1998 to October 19, 2014.
---
Last night, Serbia played Albania at soccer in a Euro 2016 qualifier. But, in the 40th minute, things turned surreal: a drone flew over the pitch flying a flag, which raised tensions enough to start a fight and get the match stopped.
---
The lack of high-definition sports broadcasts on free-to-air television is an ongoing source of frustration for football fans, particularly when the grand final months of September and October roll around. Unsurprisingly, money is the main reason standard definition continues to rule the roost, though there was a glimmer of hope as Nine remained undecided about the HD prospects of an NRL grand final. Well, the suspense is over — it'll be SD thanks to "technical difficulties".
---
As they make their way up and down the field chasing the ball, the players on this new soccer pitch in Rio de Janeiro are actually helping to keep the lights powered when the sun sets. Because underneath the artificial turf are 200 special tiles that work like tiny generators to harness the kinetic energy of the players and turn it into electricity.
---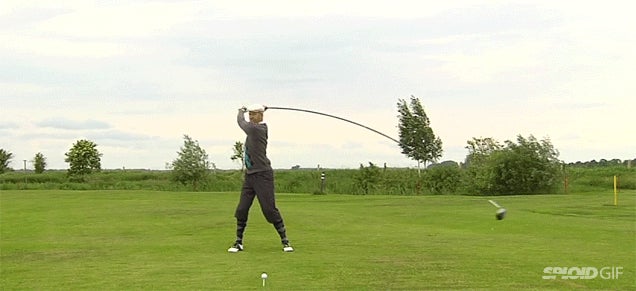 I don't where people come up with the ideas to do these things sober, but if you were ever wondering what the the Guinness World Record for world's longest golf club was, the answer is 4.4m. Karsten Maas from Denmark used the club to drive the ball about 165m.
---
Pro athletes lead a very luxurious life, with trainers ensuring they're always in top physical shape. But they still travel in cramped aeroplanes that weren't designed for seven-footers. Teague design firm and Nike have come up with a solution: a super-luxurious concept jet that caters to a team's every need.
---
There's nothing like a thin layer of condensation on your ski goggles to ruin a perfectly good run down a hill covered in tantalizingly fresh powder. But active people get warm and sweat, and science says that cold moist air condensing on your goggles is inevitable. Unless you have a pair of these F-BOM goggles strapped to your face which sandwich an incredibly thin heating element between a pair of lenses to keep them clear all day long.
---
Candlestick's out and Levi's Stadium has been officially christened as the new home of the San Francisco 49ers. The brand-spanking-new site is all kinds of wired up and ready to receive upwards of 70,000 smartphone-wielding fans. I went behind the scenes to see how the tech has come together. Are you ready for some gridiron?
---