Yesterday was a tough day for my inner-geek. I love comic book movies and Game Of Thrones, and had plans to spend my long-awaited holiday leave to catch up on the adventures in Westeros and the new Captain America movie. Yesterday I had both of these "spoiled" for me, either by my co-workers, commenters or the internet at large. And you know what? I don't care, and neither should you. Nobody should care about spoilers any more.
---
Gravity looks pretty damn terrifying. Most philosophers would tell us that for a film to really be chilling to the bone, it must call to mind a real-life existential fear that's buried within our souls. So Gravity is tugging at some deeply held fears we've got, then, right? Well, according to real astronaut Michael Massimino. the movie is a bunch of bull.
---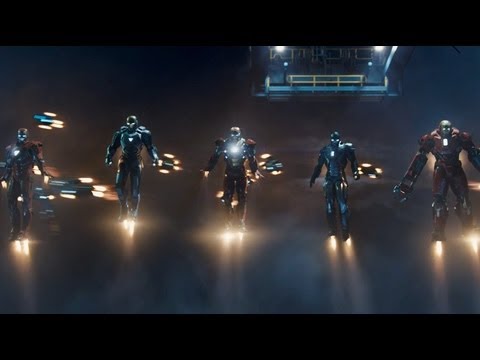 The latest Iron Man 3 trailer dropped overnight, and now we're all waiting with bated breath until the film hits cinemas in late April.
---
Batman continues to get all the coolest gadgets. We've seen already Anne Hathaway riding the two-wheeled Batpod, and watched her stunt double crash it into an IMAX camera. Now we have Christopher Nolan's reimagined Batwing (or is it the Batcopter?) on set in Pittsburgh. Spoiler alert!
---
With spoilers littering the shoulders of the information superhighway, a helpful signpost – the spoiler alert – lets us know when to avert our eyes. The ever-resourceful folks at The Awl set out to find some of the earliest examples.
---
Indy IV's out! But what most people don't know, however, is that the classic Indy theme now comes with new lyrics. Apparently, John Williams writes lyrics for all his compositions—even while they won't be sung—as a way to keep them in character. Gizmodo has uncovered those lyrics after days of arduous investigation and heavy drinking, following up a scoop by Alex Balk. (Note: lyrics contain foul language.)
---
newVideoPlayer("halo3fanboyseatshit_gawker.flv", 475, 286);
AU: WARNING: The end of this video will be very much considered a spoiler for Halo 3. Whether it is or not? It's complicated (like any good story) and I don't want to say. And yes, I've finished the game (I review games for a newspaper). Trust me, though, this vid will only re-upset those of you who were upset by Brian's first 'unbagging' video. I don't hate Halo / MS fanboys as much as Brian seems to, so I'm being nice and trying to save you a nasty shock. -SB
The other day, I posted a video showing some cool Halo 3 swag Microsoft sent me as part of the press kit. Despite me putting the word "Incredible" in the headline, people thought my video reflected a lack of appreciation for the gear, and I was called many names for it, and even received a death threat. I had no idea that Halo 3 fans were even more passionate than Apple fans. I realise now my video may have been seen as disrespectful, so I want to apologise here, and give you a second video with more detail of the Halo 3 swag unbagging, although its pretty similar to last week's, for those who weren't offended in the first place. Halo 3 fans who I disappointed last week, this video is for you.
---
Fans of boy wizards, pet owls and precocious English girls won't be too keen on the Harry Potter Enlightenment Project, a group of British scallywags who have produced a spoilsport T-Shirt that will make children cry and their parents call you every name under the sun. Jump to see Cho (Katie Leung) revealing all. [NSFP version - Not Safe For Potterphiles, spoil-o-rama ahead]
AU: The things I do for you people… posting this was like trying to avoid staring into the sun, but being told it's part of your job. I'm no Potterphile, but I do want to get through this last one without meeting a nasty spoiler in my online travels. It's damn hard! -Seamus Byrne
---
Remember that badass Joker semi we showed you a few days ago? Here's some video of his ride, but it's a bit of a spoiler for those who want to be completely surprised when good triumphs over evil, and the Joker destroys Batman in The Dark Night. Oh, and hit the jump for a bonus shot of the carnage.
AU: I've bumped all pics and the clip to below the jump for the sake of those particularly sensitive to spoilers. -Seamus Byrne
---