---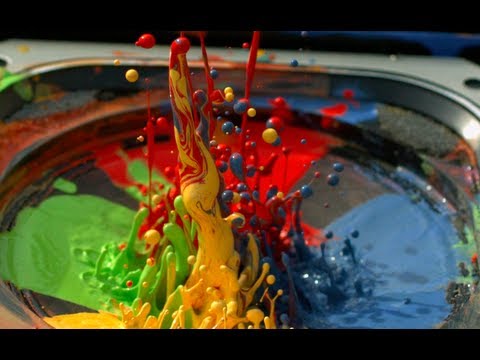 Music is an experience, they say. A great song can serve as a time machine to send you to a particular moment, a specific feeling, a certain memory. You might hear music but you can also see it, feel it and touch it. Touch it? Well, yeah, if you're filling a speaker with paint to make music dance in breathtaking slow motion.
---
Touchscreens are flat and hard by necessity — thanks to their dense layers of glass, conductive metal and capacitors. But as haptic interfaces start to appear in commercial gadgets, touchscreen devices are poised to become even more… touchy. Enter Eunhee Jo, a Korean designer who's spending the next year as a designer in residence at London's Design Museum, and who specialises in haptic interfaces.
---
You've already got the hyper-realistic machine gun controller, but you've probably noticed that playing a war-themed first-person shooter on your basement couch just doesn't feel like you're actually at war. There's definitely something missing — and that something surely has to be Hyperkin's new ComRad that packs speakers and a boom mic into a realistic looking helmet.
---
There's an endless list of annoyances that make air travel unenjoyable, the least of which being the nonstop blaring airport announcements you have to endure while waiting for your flight. So hats off to a team of researchers from the University of Edinburgh in Scotland who've developed a filter that can make speech blasted over a loudspeaker easier to understand over background noise, but also quieter.
---
Sonos is primed to expand the lineup of speakers for its wireless audio system. As usual, the company's FCC filing has surfaced in advance of the actual product launch. The forthcoming Play:1 looks like it will be a simpler speaker than its counterparts, and that Sonos intends it to be used in a stereo pairing. Is this the Sonos bookshelf speaker?
---