If you have a smartphone or tablet in your household, you need not be tied to either its tiny, tinny speaker or a single Bluetooth or Wi-Fi speaker — why not play your music through half a dozen different speaker at once, all in different rooms? Multi-room audio has been around for a decade now, but the race is heating up of late; Samsung's new M5 and M7 wireless multi-room speakers are the company's attempt at dethroning Sonos as the Wi-Fi hi-fi system of choice.
---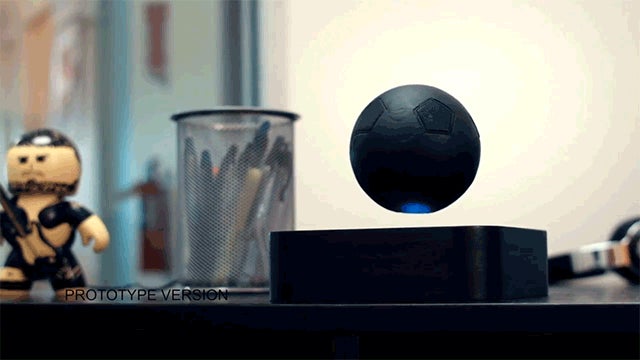 Bluetooth speakers are ubiquitous these days, so it's no surprise to see some companies going out on a limb to set themselves apart. OM Audio, however, is venturing beyond that limb into thin air with its new OM/One floating speaker. Not only is levitation a neat gimmick, but it supposedly also helps the sound travel better. Even if it doesn't, at least it looks cool.
---
In a world of light-up boom boxes made of bright and often cheap-feeling materials, it can be difficult to find a Bluetooth speaker with a little class. If you need something to stick in your house of rich mahogany and leather-bound books, it might be worth giving the Esquire from Harman Kardon a look.
---
YouTuber Andy Elliott (mist8k) stumbled upon an awesome DIY project. While "tinkering with a small electric engine," he describes in his video, "my audio jack accidentally came in contact with the engine…and started randomly playing music." Elliott unknowingly built his own speaker.
---
If you want to buy a Bluetooth speaker for picnics and beaches and afternoons in the backyard, you have a lot of choice. Kickstarter success story Outdoor Tech has a rugged wireless boombox, the Big Turtle Shell, that wants to knock off the UE Boom and Jawbone's Big Jambox as the outdoor speaker of record.
---
Wireless speakers are nothing new, but they're usually relatively cheap and portable and designed to pair over Bluetooth with your smartphone at a picnic or the beach. What if you wanted something a little more serious for your living room? The high-end KEF X300A bookshelf speakers, new to Australia, can stream via DLNA or AirPlay and support high resolution 96kHz/24-bit audio over USB. All of this is Good Stuff.
---
There are lots of portable Bluetooth speakers on the market, from a lot of brands. You don't really know what you're paying for, either, unless you get a chance to try before you buy. Braven is a US company, and while it's relatively new it has a wide range of versatile wireless speakers that prove themselves in creating good sound — including the BRV-X.
---
When you're staring down a day filled with work meetings and deadlines, there's usually not much motivation to roll out of bed in the morning. So by blasting you with terrible sounds like drumsets and fog horns, this G-Buzz alarm clock uses negative reinforcement to make heading to work seem like the lesser of two evils.
---