There's a new snowboard in town. Developed by an Aussie bloke in the back of his shed over the course of nearly three decades, the Cross Board looks like a snowboard met a pair of snowshoes in a dark alley and some things happened. What's it like to ride, though?
---
Snowboarding is in a decline. The number of riders hitting the slopes is falling every year, and there's little innovation in the range and variety of boards available to beginners and pros. One Aussie inventor, though, has a fascinating and innovative piece of hardware that might change all of that — and it's already out on one of Australia's best snowfields.
---
There are very few sports you can't play at night, thanks to the magic of gigantic stadium floodlights. But if your hunt for fresh powder leads you to the dark side of the mountain after the sun has set, careening down the slopes blind is a terrible idea. So the ever-innovative folks at Signal Snowboards decided a pair of snowboards upgraded with headlights would be much safer.
---
The folks at Signal Snowboards like to experiment over the winter months with conceptual deck designs — sometimes they're practical, and sometimes they're downright crazy. And the company's latest creation, a snowboard with a built-in turntable, probably falls into that latter category.
---
Signal Snowboards has made a name for itself — at least outside of snowboarding circles — with its experiments using unorthodox materials to make decks. The company's glass snowboard was surprisingly resilient on the slopes, as is its latest creation which was actually made from recyclable corrugated cardboard.
---
First and foremost, a good pair of snowboarding boots should get you down a slope safely and with a good measure of comfort. But Nike also wants you to be noticed, particularly if you're competing and need to impress a bunch of judges. So with its latest snowboarding boot — the LunarENDOR QS — Nike's enhanced its iconic swoosh logo with 30 glowing LEDs so that when you're pulling a spiralling Double McTwist 1260, you'll be an impossible to miss swirl of blue.
---
When Archimedes thought up his revolutionary water-pumping screw, little did he know that one day a group of high school students in Lyon, France, would find a better use for his design. Their Propul-Surf uses a pair of horizontally-mounted screws to push a snowboard through the snow when gravity doesn't provide enough momentum.
---
Using traditional fabrication techniques, the folks at Signal Snowboards have made decks from all kinds of crazy materials, including glass. But, this month, they're trying out a radically different fabrication technique to see if you really can make a usable snowboard with a 3D printer.
---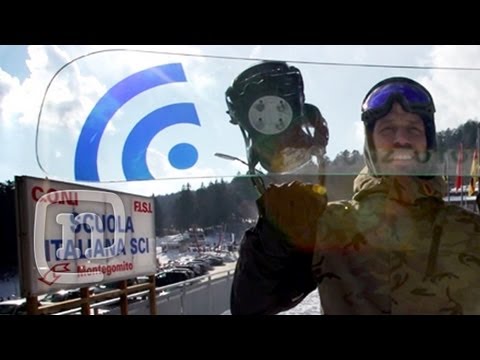 For their latest creation, the folks at Signal Snowboards travelled to Italy where they took advantage of skilled local artisans to create what has to be the world's first functional glass snowboard.
---
Strapping your feet to a board and then sliding down a snow-covered hill requires skills that most humans aren't born with. So, to make it just a little easier for novices to learn how to snowboard, Australia's Streetboardz has created a board with a built-in handbrake that lets riders easily stop before things get out of control.
---