When Archimedes thought up his revolutionary water-pumping screw, little did he know that one day a group of high school students in Lyon, France, would find a better use for his design. Their Propul-Surf uses a pair of horizontally-mounted screws to push a snowboard through the snow when gravity doesn't provide enough momentum.
---
Using traditional fabrication techniques, the folks at Signal Snowboards have made decks from all kinds of crazy materials, including glass. But, this month, they're trying out a radically different fabrication technique to see if you really can make a usable snowboard with a 3D printer.
---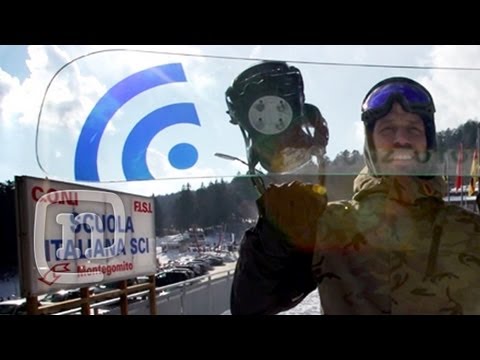 For their latest creation, the folks at Signal Snowboards travelled to Italy where they took advantage of skilled local artisans to create what has to be the world's first functional glass snowboard.
---
Strapping your feet to a board and then sliding down a snow-covered hill requires skills that most humans aren't born with. So, to make it just a little easier for novices to learn how to snowboard, Australia's Streetboardz has created a board with a built-in handbrake that lets riders easily stop before things get out of control.
---
The talented folks at Signal Snowboards are back with one of their most practical creations yet. Using a sheet of ultra-thin solar cells from a company called Powerfilm Solar, they created a board that harnesses the sun's rays and turns them into usable electricity for charging a small device.
---
Putting a new spin (literally) on the adaptive snowboards that let those with physical disabilities still enjoy snowsports, the folks at Signal Snowboards worked with Crankbrothers to design what could be the world's first snow-friendly wheelchair.
---
Those who like to stay active all year long probably have a garage filled with gear that can only be used during certain parts of the year. So the folks at Signal Snowboards decided to build something that could be enjoyed whether it was balmy or snowy outside with this versatile fly fishing snowboard.
---
The folks over at Signal Snowboards like to take time out every month and see what kind of crazy snowboard contraptions they can come up with. And this month they created the perfect snowboarding multi-tool for those who like to get away from it all.
---
Every third Thursday of the month, California-based Signal Snowboards likes to experiment with unique board designs that push the boundaries of form and function. And this time around it created a snowboard with inflatable inner tubes, like a bike tyre.
---