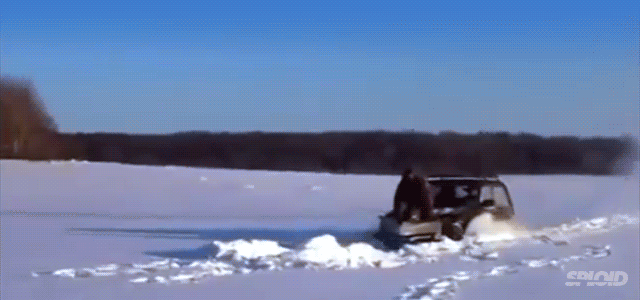 Winter came and overstayed its welcome in the Northern Hemisphere. At what point do you make like these Russians and turn your tiny crappy cars into snow plow sleds? I say the next snow. Just hop on the hood of your car and make a friend drive you through and pummel it. Winter is stupid, this type of stupid fun makes it a little less so.
---
Believe it or not, making ice is more complicated than just making water really cold. One thing that helps is bacteria. Yes, bacteria! In this captivatingly magic video, it takes just a second for Pseudomonas syringae to turn a whole jar of water into ice.
---
The design and fabrication of artificial ice-climbing structures is an incredibly creative yet widely overlooked form of experimental architecture. The resulting constructions are often astonishing: ice-covered loops, ledges, branches and towers reminiscent of the playful 1960s experiments of Archigram, yet serving as some of the most spatially interesting athletic venues in all of today's professional sports.
---
Signal Snowboards has made a name for itself — at least outside of snowboarding circles — with its experiments using unorthodox materials to make decks. The company's glass snowboard was surprisingly resilient on the slopes, as is its latest creation which was actually made from recyclable corrugated cardboard.
---
So far, the Sochi Olympics has had its share of difficulties. But there might be a sort of reasonable explanation for that! You see, while Sochi's organisers were letting everything else fall to the wayside, they were busy perfecting the one thing totally out of their control: the weather. Here's how Sochi — which is reaching a high of 10C today — made it snow.
---
Antarctica looks amazing from space — but this video shows that its gnarled canyons and caves look equally impressive close-up too.
---