The folks at Signal Snowboards like to experiment over the winter months with conceptual deck designs — sometimes they're practical, and sometimes they're downright crazy. And the company's latest creation, a snowboard with a built-in turntable, probably falls into that latter category.
---
Video: Luckily for Eric Hjorleifson, the avalanche that he started by going down a big mountain pillow line doesn't fully consume him, leaving him relatively unscathed — he just "twisted his knee a bit." You can hear the fear in his heavy breathing after the incident, though. I don't blame him. It's quite scary.
---
What an astonishing and strange place this is, this vast and fractal landscape on Mars. As Wired describes it, the rolling polar expanse seen above is actually "one of the smoothest, flattest places" on the not-so-Red Planet, a region so well-levelled and repetitive that "there are no landmarks visible".
---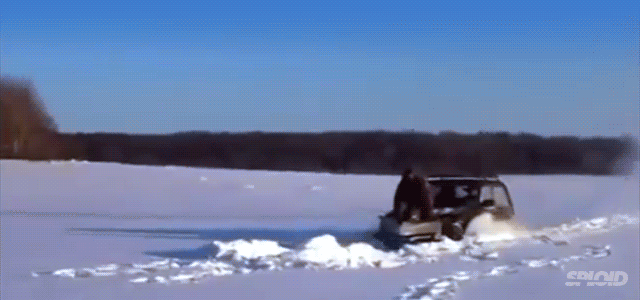 Winter came and overstayed its welcome in the Northern Hemisphere. At what point do you make like these Russians and turn your tiny crappy cars into snow plow sleds? I say the next snow. Just hop on the hood of your car and make a friend drive you through and pummel it. Winter is stupid, this type of stupid fun makes it a little less so.
---
Believe it or not, making ice is more complicated than just making water really cold. One thing that helps is bacteria. Yes, bacteria! In this captivatingly magic video, it takes just a second for Pseudomonas syringae to turn a whole jar of water into ice.
---
The design and fabrication of artificial ice-climbing structures is an incredibly creative yet widely overlooked form of experimental architecture. The resulting constructions are often astonishing: ice-covered loops, ledges, branches and towers reminiscent of the playful 1960s experiments of Archigram, yet serving as some of the most spatially interesting athletic venues in all of today's professional sports.
---
Signal Snowboards has made a name for itself — at least outside of snowboarding circles — with its experiments using unorthodox materials to make decks. The company's glass snowboard was surprisingly resilient on the slopes, as is its latest creation which was actually made from recyclable corrugated cardboard.
---