Loading page
---
Video: It's flame retardant tinsel (which has absolutely no chance of standing up to the mighty red hot nickel ball), which probably explains why the smoke it releases looks so damn toxic. I mean, the smoke is so thick that it looks like it's a yellow green grey sludge and not actually smoke. Inhaling one puff of that smog's fart must knock you out cold and re-arrange your sense of smell for life.
---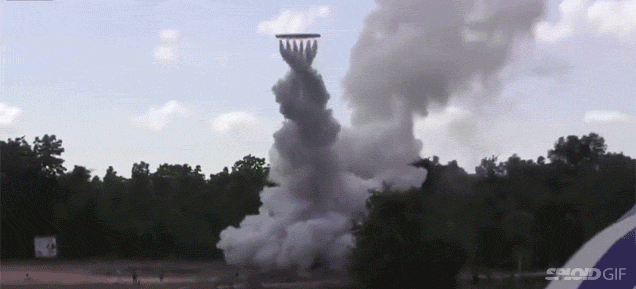 I don't really know what's going on in this video: It starts out with a group of people gathered around an object which then cuts to people fleeing the circle because mad men are lighting the object which then turns into a thick smoke monster threatening Earth and then out pops the coolest rocket thing ever, screwing itself into the air.
---
---
Here's an awesome experiment you can try if you're looking for a last minute way to decorate your cubicle or house for Halloween. It's particularly great if you have one of those tiny relaxing waterfalls at your disposal, since replacing the water with cascading smoke is sure to have everyone thinking you're some kind of wizard — despite your costume.
---
Loading page