Video: Even as a little kid who wanted lightning to strike me so I could get superpowers, I've always loved seeing the electric bolts get speared down from the clouds. Seeing lightning was always cool, it was the lagging and crackling thunder that was the scary part of any storm. That's why this video of slow motion lightning is great, no thunder, just bolts of lightning tagging the ground.
---
Video: It's always fun to see water balloons explode in slow motion, because you get to see the skin of the balloon peel back and then actually get a glimpse of the water suspended in the air for the briefest of moments. So it's even more fun when the water balloon is comically huge and a person is inside said comically huge water balloon.
---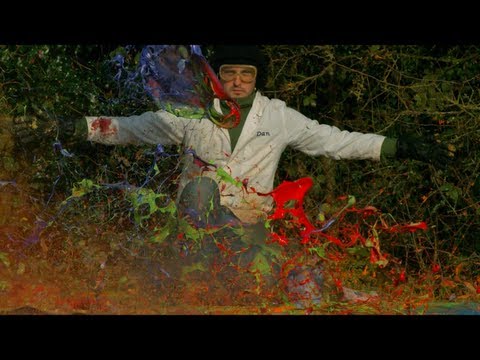 Everything looks better in slow motion. Especially cocking about with your mates while making massive explosions. The Slow-Mo Guys on YouTube have millions of subscribers and loads of great slow-motion videos, but which ones are best? Here's our top 10.
---
Video: A tennis ball is squishy and bouncy and totally perfect for slow-motion fun. Watch as a tennis racket hits the fuzzy yellow green ball at 229km/h in slow motion, it's incredible. The more you slow it down, the more flattened and deformed and goo-like the ball gets. At a certain point, it looks like the ball has just been absorbed and eaten alive by the tennis racket.
---
It's abundantly clear now that a slow motion camera is probably the funnest toy a bored suburban kid could ever ask for. Anything you do is immediately more gross, epic, impressive, sillier and just plain funner-er than real life. You could just load up a homemade cannon with brown sludge and ketchup and shoot it at people in slow motion and it will be a fantastic way to spend a day.
---
Video: Man, that's got to flatten out some brain cells. Slow-motion footage from a Turkish TV program The Glory of Nature found on Reddit shows a woodpecker repeatedly drilling its beak into a tree. You can see the head of the bird jiggle and the shock of the hit reverberate throughout its entire body. But it just keeps going! These little guys are badass head bangers.
---
Video: Really bad things happen. Although everyone should know this, here's a lovely slow-motion video reminder on what happens when you pour water onto an oil fire in an attempt to put it out: the fire gets even crazier, because the water vaporises into steam, which expands causing it to spit out the oil, which makes the flames even bigger.
---
Video: Watch as we slow down time to see this guy fire off 20 bullets in just 1.5 seconds from two double-barrelled pistols. It's a ballistics ballet that looks almost unreal at certain angles. The top-down look of the guns firing is especially cool to see, like a first-person shooter video game view only in real life.
---