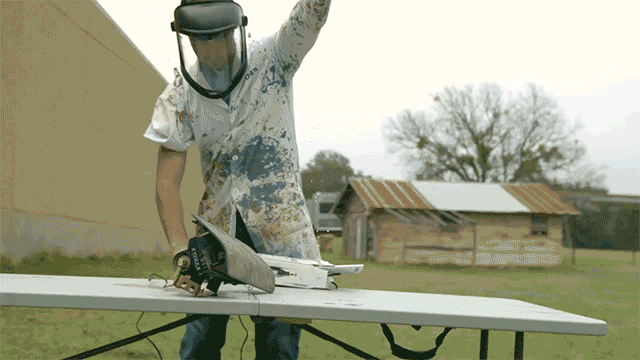 ---
Learning to lasso is insanely difficult, but in this BBC video champion roper "Cowboy Craig" Ingram shows how it's done in super slow-motion. It's mesmerising.
---
There's no denying that everything looks cooler in slow motion, but birds of prey on the hunt are particularly mesmerising through the lens of a high-speed camera. This Goshawk is being lured into attacking a water balloon baited with a piece of meat, and its mid-air manoeuvres make even our most advanced fighter planes look primitive.
---
Screw Google Glass. What I want is to see the world slowed down, shot at 500 frames per second and played back at 24 frames per second whenever I want. Or see time-lapses by blinking twice and accelerating time. Example: This corgi.
---
What's your favourite thing to see explode? Never thought about it? How could you. I think it might have to be the watermelon The hard outer shell of the fruit makes for perfect fragmentation, the watermelon's shape holds an explosive pretty darn well and its red flesh makes for colorfully gory splashes (especially against the green shell). Plus, it's watery so the explosion range is fantastic. I don't think it's a competition. Just look at the SlowMoGuys blowing up a watermelon and try and think of something better to blow up. The watermelon looks like some super bomb from Mario Kart.
---
It's usually over in an instant, but when you capture macro footage of a match head igniting at 4000 frames per second, suddenly that almost instantaneous event becomes a fascinating look into the science of fire and ignition. And, believe it or not, YouTuber UltraSlo had to throw an additional 2000 watts of light on this match head to capture this mesmerising footage — that's a lot of birthday candles.
---
Almost everything looks cooler when it's filmed in slow motion, right? Explosions, athletic feats of achievement, glass breaking, water pouring, fireworks shooting, highlights happening, fighting and pretty much everything else in the world. Except one thing. Beatboxing. It looks positively explicit in slow motion.
---
Photographer Adam Magyar took a high-speed camera and recorded everything as his subway train car was getting into the station. Here's the result in three spellbinding clips, part of his film Stainless, in three different cities: New York, Berlin and Tokyo. Above you can see 42 Street — Grand Central.
---