There are few better sentences than one that includes the words "giant", "bubbles", "exploding" and "slow motion". Well, there's one thing better: a video that fits that sentence.
---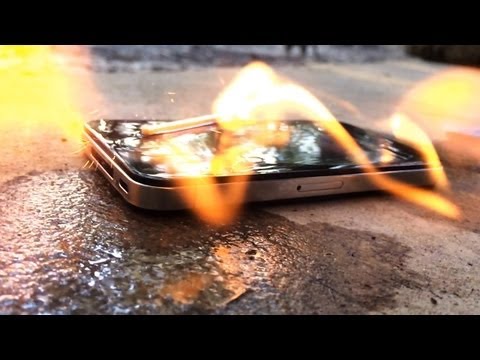 Best way to show off the iPhone 5s's slow-motion video capture? By using it to shoot Apple's new smartphone being destroyed at 120 fps. How delightfully meta.
---
For the upcoming BBC nature series "South Pacific," filmmakers rigged a TyphoonHD4 to shoot above and underwater HD in gorgeous slow motion.
---
newVideoPlayer("/slowmocam_gizmodo.flv", 506, 305,""); Sure, the Casio EX-F1 shoots great slow-mo footage for a consumer camera. But it can't touch the footage that the SprintCam V3 HD pumps out. Good lord.
---
The noble Samurai has found his role in Japanese society reduced over the decades from a fearsome fighting warrior to a skilled cutter of vegetables and BBs that's paraded on TV shows for our amusement.
---
Will lighters blend? Yes, they will. And the explosive results, filmed in slo-mo, have finally warmed me up to this otherwise inscrutable internet meme. Good thing we didn't try this at the Giz Gallery! [Kotaro269]
---
The Gadget: The Casio EX-FH20 camera, bargain brother to the popular EX-F1. It features 1000 fps slow-mo video, a 40 fps burst mode for still shooting and a 9.1-megapixel sensor, as well as good ol' 720p at regular speeds, all for just over half the price of the original slow-mo star. galleryPost("exfh20lightning", 3, "");
---
Maybe you didn't even realise that the hallowed Exilim EX-F1 super-slow-mo cam got a little brother, the new $US600 EX-FH20. We finally got to check it out today and it's definitely a winner. Slightly slimmer than it's pricier counterpart, it also has a cleaner UI making it easier for a novice to use. 1000fps slo-mo video looked great, and the 40fps burst mode worked well, prerecording images in order to capture the perfect moment, even if you have a slow trigger finger. It even has a slight bump in the megapixel department, 9.1MP to the EX-F1′s 6.0MP. The EX-FH20 is just hitting stores, so check the gallery to see how it measures up to the EX-F1. And of course stay tuned for our full review. galleryPost("casioexfh20handson", 4, "");
---
newVideoPlayer("/discoverypunch_giz.flv", 494, 286,""); Overheard in a recent Discovery Channel producer's meeting: "Hey–here's a crazy idea: you know how videos of things happening in slow motion tend to blow up the internet? Let's make that into a whole show. And in HD to boot. Face punches, raw chicken exploding, champagne blowing its top (the more latent sexuality the better!)–that kind of thing. We'll start it off next week, and yeah, we'll put some pretty great interactive slo-mo videos on our website that can be controlled frame-by-frame. I don't know about you guys but I'm sold!" [Discovery Channel]
---