We already knew that hydrophobic surfaces are extremely fun — but they're even better in super slow motion. The Slow Mo guys recently paid GE a visit and shot some footage of their latest projects in their trademark super slow motion — including a hydrophobic coating GE is developing to keep wind turbines free of ice.
---
Normally coffee gets you all hyped up, but this slow motion footage of an espresso shot being pulled is so relaxing I can hardly take my eyes off it.
---
There are few better sentences than one that includes the words "giant", "bubbles", "exploding" and "slow motion". Well, there's one thing better: a video that fits that sentence.
---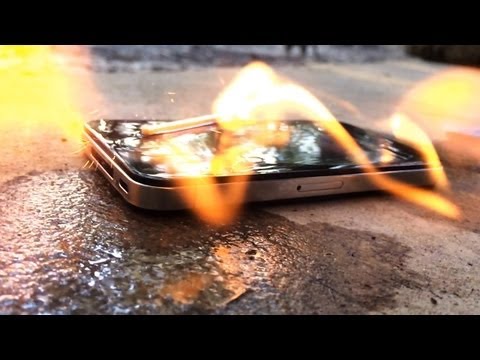 Best way to show off the iPhone 5s's slow-motion video capture? By using it to shoot Apple's new smartphone being destroyed at 120 fps. How delightfully meta.
---
For the upcoming BBC nature series "South Pacific," filmmakers rigged a TyphoonHD4 to shoot above and underwater HD in gorgeous slow motion.
---
newVideoPlayer("/slowmocam_gizmodo.flv", 506, 305,""); Sure, the Casio EX-F1 shoots great slow-mo footage for a consumer camera. But it can't touch the footage that the SprintCam V3 HD pumps out. Good lord.
---
The noble Samurai has found his role in Japanese society reduced over the decades from a fearsome fighting warrior to a skilled cutter of vegetables and BBs that's paraded on TV shows for our amusement.
---
Will lighters blend? Yes, they will. And the explosive results, filmed in slo-mo, have finally warmed me up to this otherwise inscrutable internet meme. Good thing we didn't try this at the Giz Gallery! [Kotaro269]
---
The Gadget: The Casio EX-FH20 camera, bargain brother to the popular EX-F1. It features 1000 fps slow-mo video, a 40 fps burst mode for still shooting and a 9.1-megapixel sensor, as well as good ol' 720p at regular speeds, all for just over half the price of the original slow-mo star. galleryPost("exfh20lightning", 3, "");
---