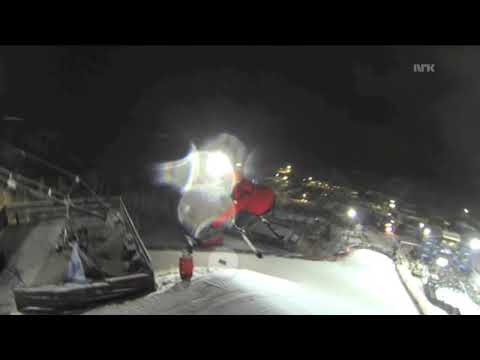 We've all broken our share of phones, and generally the only day-to-day danger they face is a three or four foot fall, or maybe the odd puddle of water. Norwegian X-Games competitor PK Hunder's phone had a bit more to deal with when he lost it in mid-air, half-way through a 720 during practice yesterday.
---
At over 22,000 square metres Ski Dubai is currently the largest indoor skiing facility in the world. But a Danish architectural firm believes that record should belong to Denmark, and so has designed and proposed an indoor ski facility for the city of Randers that will safely snatch the title of world's biggest from Dubai.
---
These new Zai Laisa skis are so beautiful, I want to ditch everything and hit the slopes right now. Except it's the wrong time year. But even as a snowboarder, I'm lusting after this pair.
---
The small and thin front wheels on a wheelchair or stroller might roll easy on hard surfaces, but on snow and ice they sink right in like a hot knife through butter. So a Swedish inventor has created a simple ski accessory that lets smaller wheels easily slide over frozen conditions.
---
Mountain climbing is one sport that's all about the gear, and with a set of Hive's transforming snow shoes strapped to your feet, you'll be ready to beat a hasty retreat should your climb be cut short by an avalanche.
---
When Josh Dueck broke his back in 2004 during a skiing accident, few people thought he'd ski again. He defied expectations, though, and began using a Sit Ski — a mono-ski contraption used by paraplegics — to cruise down the slopes. That wasn't enough though, so he decided he had to attempt something a little more crazy: the first seated ski back flip.
---
After a few seasons on the slopes, you realise that having a set of goggles with interchangeable lenses is a must. Then you realise that changing the lenses on those goggles is a huge pain in the arse. Well magical magnets are once again the answer to all of our troubles.
---