Up until today, my plan for the robot takeover had been to flee to northern Canada, where deep snow and grizzly bears would keep me safe from Skynet. But not any more, because some smartarse decided to teach the droids to ski. Great work, guys.
---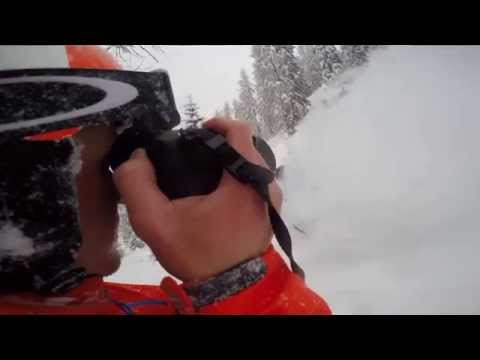 Photographing backcountry skiing isn't the easiest of jobs — mess up the shot, and you've got a lot of hiking to do again (not to mention the wasted powder). But it also has its benefits, like skiing endless laps of perfect snow.
---
Video: Holy cow. I don't know how professional skier Cody Townsend pulled off this insane ski line that saw him pretty much drop straight down and then through the most narrow of cracks while skiing insanely fast, but he did it. The English language is not equipped to express how unbelievably mind-blowingly awesome his ski run was.
---
A few days ago, we brought you a video of two skiers wrapped in LED light rope. The effect was extraordinarily weird and cool and now GoPro has released the POV footage of the skiers themselves. Night skiing is always magical, but this goes beyond your average shadowy last run.
---
There's nothing like a thin layer of condensation on your ski goggles to ruin a perfectly good run down a hill covered in tantalizingly fresh powder. But active people get warm and sweat, and science says that cold moist air condensing on your goggles is inevitable. Unless you have a pair of these F-BOM goggles strapped to your face which sandwich an incredibly thin heating element between a pair of lenses to keep them clear all day long.
---
For devoted skiers, there's nothing quite like finding a slope covered in a blanket of fresh snow. And with Helly Hansen's First Tracks alarm clock app, they will have a better chance at being the first on the mountain after an overnight snowfall since it automatically wakes you up earlier if there's fresh powder to be enjoyed.
---
We see a lot of motorcyclists riding around in regular street clothes, nothing but hopes and dreams protecting them from nasty road rash should things get tumbly. Well, maybe not all of them — hopefully, some will be wearing Crave's kevlar-lined Axe shirt, which looks like a normal work shirt but probably won't shred like toilet paper in an asphalt encounter.
---
Helmets made with a liner material called expanded polystyrene will protect your head during a ski accident, but need to replaced after the first major impact. Helmet liners made from expanded polypropylene, though, can endure multiple impacts before needing a replacement. Using a series of sensors inside its liner, POC's new Skull Orbic H.I. MIPS helmet can actually tell you when it's time to buy a new one.
---