Performing a midair fuel transfer between aircraft is among the most technically challenging maneuvers in aviation, especially when flying a prop-driven, WWII-era C-97 Stratotanker. That's why neophyte pilots spent hours at the controls of this life-size simulator before they ever set foot in the real thing.
---
Do you remember how you spent your high school years? Odds are you were more concerned with your social status than actually doing something useful with your life. Not Dominick Lee. Instead of parties and homecomings he designed, built and programmed an impressive low-budget flight simulator that's going to all but guarantee him entry into any university engineering programming.
---
You don't see a lot of first person shooter games that opt for a bow and arrow in lieu of a machine gun, but that's probably because no one has created a bow interface as authentic as what Masasuke Yasumoto at the Tokyo University of Technology has developed.
---
---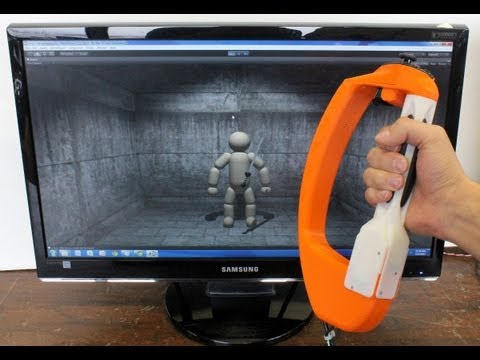 When it comes to making video games feel more realistic, Nintendo seems to be one of the industry's leading innovators. First it introduced a vibrating rumble controller accessory for the N64, and then of course it made a buttload of money from the motion-controlled Wii. But a company called Tactical Haptics wants to steal Nintendo's thunder with a grip-simulating motion controller that promises to accurately simulate how a sword or gun really feels in hand.
---
In an effort to improve autopilot systems aboard spacecraft, the European Space Agency has released a free iOS app that works with Parrot's AR Drone and lets amateur pilots practise a simulated docking with the International Space Station.
---
A Japanese company called Solidray, which specialises in virtual reality systems, has developed a clever way to simulate flowing water using both visual and tactile feedback. And while the technology is neat, the practical applications that come to mind are a little unsettling.
---
Supercomputers let us simulate everything from the weather, to a chess match against a master, to how the human body operates. But researchers at Japan's National Cerebral and Cardiovascular Center have created a detailed 3D simulation of a beating human heart that can run on a laptop, allowing even small hospitals to perform research and complex diagnoses.
---
When Hurricane Andrew rolled ashore in South Florida back in 1992, it destroyed $US27 billion worth of property. The storm was the third most destructive to ever hit the US, an outcome due in part to the insufficient building codes of the time. Structures simply weren't built to withstand the storm's fury. These days, Florida ensures that new construction can stand up to the next Andrew by torture-testing building materials against a massive Wall of Wind.
---
If preparing a bowl of two-minute noodles maxes out your culinary capabilities, you might want to consider a trip to the Tokyo Institute of Technology to enhance your skillset in the kitchen. Researchers there have developed a cooking simulator complete with virtual vegetables that can actually burn, and a force feedback frying pan that lets you feel the weight of a hefty steak.
---