Despite the fact you're far more likely to die by, I dunno, slipping on a banana peel and heatbutting a pair of scissors, we're sort of in the midst of a shark panic in Australia. Reasonable behaviour in the wake of a shark related fatality, but goddamn if this is the last thing we need now — real life sharks on Twitter? SOMEONE MAKE IT STOP!
---
Seeing as Western Australia is where most shark-related deaths happen, authorities are keen to keep an open mind on news ways to tackle the problem. And no matter what your opinion is on the amount of resources that go into shark attack prevention, their new system put into place will be quite useful – as soon as a tagged shark comes near a beach, a Twitter notice is sent within minutes to anyone following.
---
A new genetic study on great white shark's hearts has found that these animals are strikingly similar to humans. More than zebrafish, in fact, which is now widely used to "study cancers, neurological diseases and blood disorders" because of their similitude to humans.
---
---
The trend of sharks-where-they-don't-belong movies is getting ridiculous now. As if Sharknado wasn't bad enough, now there's Avalanche Sharks: the tale of a mountain haunted by mystical super-sharks that attack people from underneath the snow. The first trailer is out, and it's laughably-bad.
---
---
As lasers go, this pointer won't do much damage outside of maybe burning a few retinas if pointed in the wrong direction. However, if you're a supervillain presenting your plans for world domination to a panel of evil venture capitalists (redundant, we know) this shark with a frickin' laser pointer is the only way to go.
---
Maybe scary things just go together? Why else would this shark and knife look so right? Created by the design studio Propaganda, this sharpener is aptly named "Jaws" and has a no-slip bottom for stability. It may not be super heavy duty, but if you just have a few kitchen knives it's a good option for giving them a refresh every few months.
---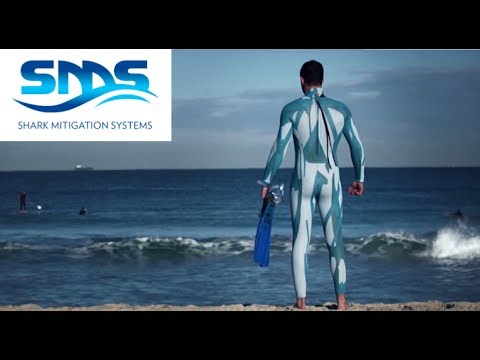 Other than getting sand in places it shouldn't be, the worst thing about surfing is getting eaten by sharks. Thankfully, Australian scientists at the University of Western Australia and the folks at Shark Attack Mitigation Systems (SAMS) have invented something that will save you from the jaws of a hungry sea beast in the form of a shark-proof wetsuit.
---