Believe it or not, even with films like Jaws in existence, some people are still willing to swim in shark-infested waters. Spotters and underwater nets help provide some level of safety, but these new sonar-equipped intelligent buoys being developed could finally make it safe — or at least safer — to go back in the water.
---
It wasn't the Kraken. It wasn't Godzilla. And it wasn't even a rabid killer whale. The mysterious animal that had killed and eaten the 2.7m great white shark and had stumped scientists turned out to be a super predator feared by even apex predators like the great white shark. So what was it?
---
---
Shark skin is famously sleek and dragless, the envy of swimsuit designers. Perhaps less famous is what shark skin's oddly rough surface looks like up close: an eerie matrix of microscopic tooth-like scales. Now, scientists are 3D-printing artificial shark skin in hopes of unlocking its swimming secrets.
---
Video: Not what you want to see, even when you have a spear gun to hand — this diver was taking a dip off Florida earlier this month when he saw a great white shark materialise then disappear into the cloudy waters. Cue some tense moments as the shark circles, getting closer, until finally being fended off.
---
Video: Looking at this video of a great white shark biting and nearly sinking an inflatable boat, it seems that looking for them in this type of vessels is not a smart idea. Fortunately, the South African film crew on board wasn't hurt, but the boat was seriously damaged and was sinking as it limped back to port.
---
Video: You should probably never try this when you go scuba diving, but watch this scuba diver turned shark whisperer instantly immobilise a shark and put it to sleep with a touch of the nose. The diver uses a technique called tonic immobility, he basically holds the sweet spot on the shark's nose to put it in a trance.
---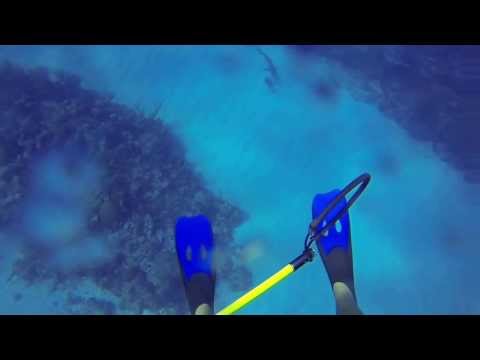 File this one under "N" for "nooooooope": a guy swimming in the Carribean armed with a spear and a GoPro found himself on the wrong end of a reef shark. Cue a traumatic ordeal where the diver attempts to swim away while defending himself from the shark, all captured in glorious 720p.
---