It's every swimmer, surfer, and slow fish's greatest fear, but to understand just how deadly a shark's bite can be, researchers at Cornell University wanted to study the cutting power of various sharks' teeth. So they did what any mad scientist would: build a saw blade covered in shark's teeth, attach it to a Sawzall, and hack their way through a hunk of salmon.
---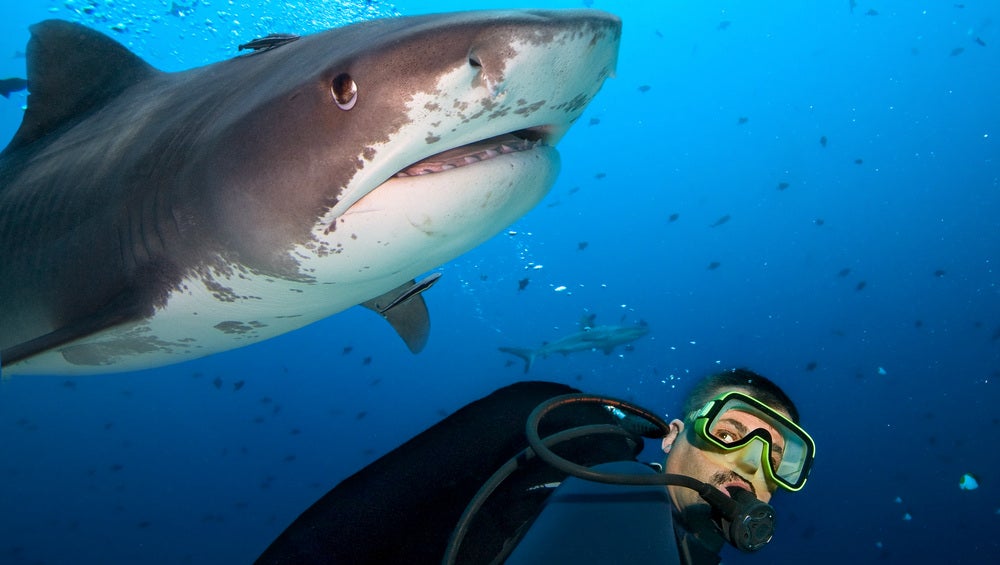 ---
Video: The huge fish always eats the less huge fish: Witness the attack of a white shark against a younger one recorded on Neptune Island, 80km off the coast of Australia. Perhaps it was a mistake — the big one seemed headed to the bait when the small one crossed its path closer — but the final result is just the same.
---
Sometimes the shark plays the role of David. Especially when it goes up against the giant Goliath Grouper who looks more like a swimming Godzilla than a fish. And in real life, David the shark doesn't have a shot against the Goliath fish because the ginormous creature can swallow the 1.2m shark whole in one bite.
---
Laying fibre optic cables down on the ocean floor is a massive undertaking in its own right. But now, Google actually has to go back and reinforce some of its thousands of kilometres of undersea cable — because hungry sharks keep mistaking the world's data lines for lunch.
---
It's happening. Sharknado 2: The Second One is airing on Foxtel right now, as part of the subscription TV network's promise of bringing the cult hit sequel to Australia within minutes of the US.
---
Believe it or not, even with films like Jaws in existence, some people are still willing to swim in shark-infested waters. Spotters and underwater nets help provide some level of safety, but these new sonar-equipped intelligent buoys being developed could finally make it safe — or at least safer — to go back in the water.
---
It wasn't the Kraken. It wasn't Godzilla. And it wasn't even a rabid killer whale. The mysterious animal that had killed and eaten the 2.7m great white shark and had stumped scientists turned out to be a super predator feared by even apex predators like the great white shark. So what was it?
---