This clip from Yann Arthus-Bertrand's 2012 film Planet Ocean shows a parrotfish pulling one of the oldest tricks in the book to get away from sharks: it hides right next to coral while staying impossibly still as the sharks just swim right by it, over it and next to it while completely missing it. It's the silly scene that happens in movies happening in nature.
---
It wasn't until Star Wars stormed through theatres in 1977 that blockbuster movies came with toys and collectibles in tow. And since Jaws was released two years earlier, there has never really been a decent amount of shark-themed collectibles available for the film. At least until Shark City Ozark created this wonderfully detailed 1:6-scale Bruce bust. Peer deep into its jaws and you can almost see Quint down there.
---
It's every swimmer, surfer, and slow fish's greatest fear, but to understand just how deadly a shark's bite can be, researchers at Cornell University wanted to study the cutting power of various sharks' teeth. So they did what any mad scientist would: build a saw blade covered in shark's teeth, attach it to a Sawzall, and hack their way through a hunk of salmon.
---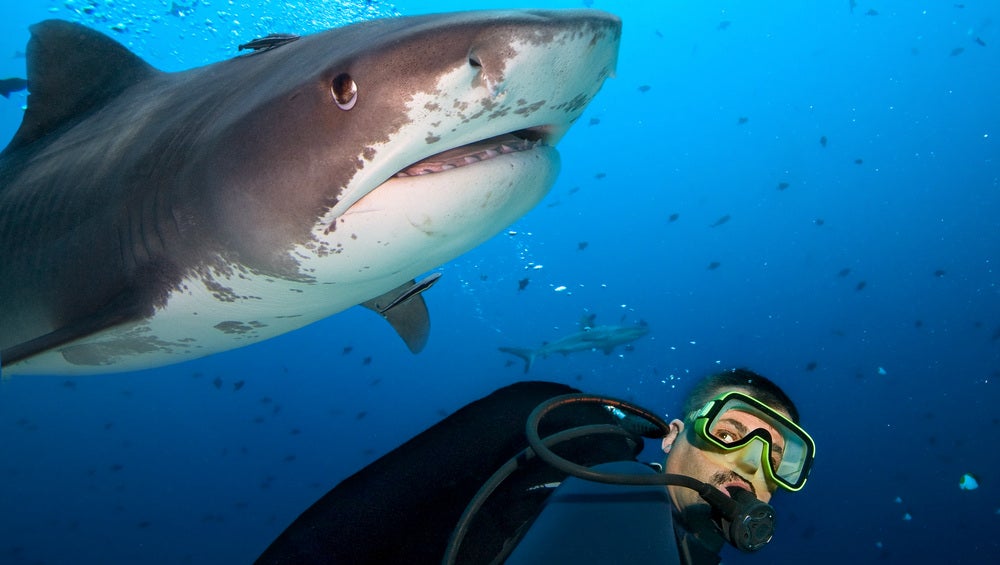 ---
Video: The huge fish always eats the less huge fish: Witness the attack of a white shark against a younger one recorded on Neptune Island, 80km off the coast of Australia. Perhaps it was a mistake — the big one seemed headed to the bait when the small one crossed its path closer — but the final result is just the same.
---
Sometimes the shark plays the role of David. Especially when it goes up against the giant Goliath Grouper who looks more like a swimming Godzilla than a fish. And in real life, David the shark doesn't have a shot against the Goliath fish because the ginormous creature can swallow the 1.2m shark whole in one bite.
---