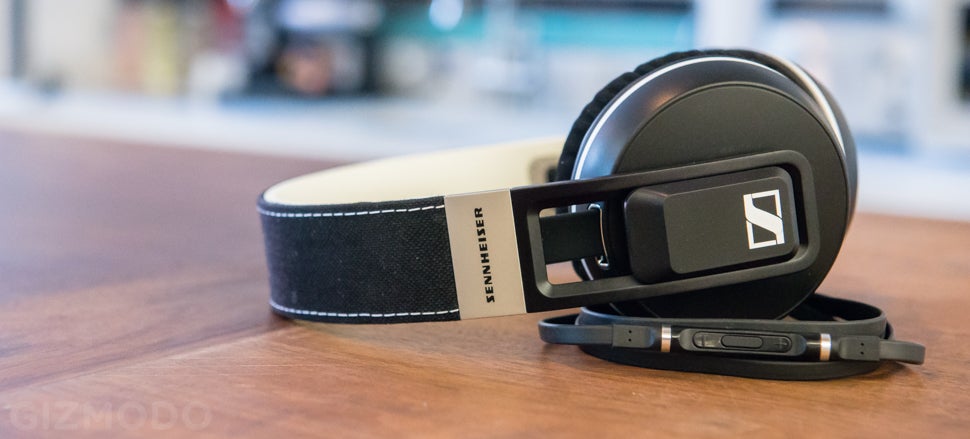 Storied headphone brand Sennheiser has spent the last few years trying to evolve its design to capitalise on the huge market created by the Beats By Dre juggernaut. The company's new Urbanite headphones are its most direct shot yet.
---
For decades, German audio company Sennheiser has made some of the best headphones you can buy, regardless of whether you're trying to keep it thrifty or splurge. In recent years, though, the legacy brand has had to adapt its technology to an era when how consumers listen to music has radically changed.
---
Headphones are part of daily life at train stations, an urban necessity used by commuters to drown out the flurry of action around them. But the other night at Union Station in Los Angeles, as I watched a woman crawl across the top of an information booth while a man's voice from another room whispered in my ear, the headphones I wore became a way to enhance, not ignore, the experience — like tuning into a pirate radio broadcast where the plot began to come to life before my eyes.
---
---
---
Even if changes in audio quality on products aren't quite as perceptible is big jumps in pixel density on screens, the sound of movies might have way more of an effect on how you experience it. In short, good audio ain't just for audiophiles. Here's the sound technology that changed the aural universe this year.
---
Back in April, the Sennheiser PMX 680i headphones became our pick for the Best Headphones for Running. We just got our ears on Sennheiser's 2013 models, the PMX 685i, and, oh my. They're a small evolutionary step, but a little evolution goes a long way.
---
Sennheiser makes some of the best headphones in the world regardless of whether you want to pay $70 or $US1500. Today, we're lucky enough to have Sennheiser Senior Acoustic Engineer Axel Grell here to answer a few of our questions.
---
The technology driving wireless headphones has not yet reached its full potential. But over the past few years, Bluetooth has advanced to a point that less than $600 can buy a pair of headphones with decent audio and respectable battery life. We rounded up four pairs and let 'em duke it out to see if any pair has stamina and sound you could truly call excellent.
---