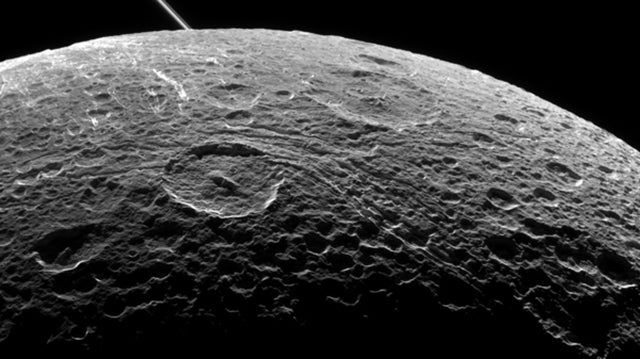 ---
Almost every time we have a look, Saturn seems to become even more incredible. Space rain falls from icy rings into the gas giant's atmosphere. Two of its moons, Titan and Enceladus, are among the best candidates in our solar system for finding alien life.
---
Saturn's ice moon Enceladus is being slowly devoured by the gas giant's rings, according to a series of new NASA images that show ghostly tendrils escaping the moon's cryo-volcanoes and shooting off into space. Whoa.
---
Move over Europa, there's another moon out to claim the title of first place we'll discover extraterrestrial life. New research from Cornell University finds that alien microbes could, just maybe, eek it out on Saturn's largest moon, Titan. But these critters wouldn't be like anything we've ever seen before — not even close.
---
Video: NASA's Astronomy Picture of the Day is back with a winner: Saturn's crescent phase captured by Cassini with its rings and the moon Rhea. It looks like a menacing eye from a colossal evil being from another dimension opening in the darkness of space, watching all of us. There's an amazing movie too.
---
Someone on Reddit just posted this old November 2010 image by the Cassini spacecraft. It shows 2-mile-high (3.5-kilometer) structures rising on Saturn's B ring's outer edge. We talked about this back then, but it's a great peg to show this cool artist impression of what it would look like from the ring itself:
---
Our friend Val Klavans sent me a Christmas present this morning: A colour photo of Saturn as you would have seen it if you were riding the spacecraft Cassini on December 21, 2014. Saturn's north polar hexagon stands out prominently while the rings encircle the planet. You can see the hexagon storm on its north pole.
---