SpaceX celebrated a flawless launch of its Falcon 9 spacecraft from the Cape Canaveral Air Force Station on Wednesday. It delivered an SES-8 satellite into orbit without a glitch bringing the Falcon 9 one flight away from being qualified to fly missions for the US Air Force. [SpaceX via BoingBoing]
---
The original launch of SpaceX's redesigned Falcon 9 rocket was planned for just a few days ago on Monday — but that mission was scrubbed at the last minute due to a technical glitch. It was sad for those who tuned in at the beginning of the week to watch the livestream, but the good news is that right now SpaceX is making another attempt with a 65-minute launch window that started at 5:39pm EST.
---
Wile E. Coyote always used matches to light his ACME rockets. He wasted a lot of money. Turns out, you can cut out the middleman and use matches to make your own tiny rockets. Just don't try to ride them.
---
The Saturn V is the tallest, heaviest, and most powerful rocket humans have ever built. In 13 missions, it took 24 astronauts beyond earth's orbit, including all 12 who ever set foot on the moon, without a single loss of life. Watch in awe as its entire career launches before you.
---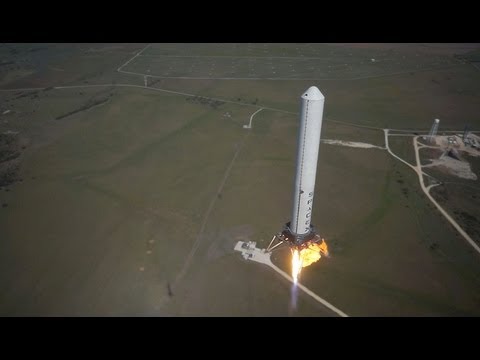 In the past few months SpaceX's Grasshopper has done test runs that included jaunts to 250 and 325m above ground. The rocket has been regularly sticking its landings and has even done some side-to-side manoeuvring. And now the Grasshopper has taken its biggest hop yet to 744m. Pretty slick.
---
If it exists in three dimensions, chances are we'll be printing it some day. Take rocket engines. If we're ever going to take advantage of space and its unending bounty, making it cheaper to break orbit and blast around is an important step forward. Students at the University of California are doing their part, with a test-firing of their 3D printed metal rocket going fantastically well.
---
The Cygnus spacecraft, which launched from Wallops Island Flight Facility in Virginia on September 18, successfully docked with the International Space Station this morning after astronauts aboard the ISS nabbed it with the station's robotic arm. Built by private aerospace group Orbital Sciences Corp., Cygnus was carrying almost 600kg of supplies.
---
The first flight of the Cygnus, a new experimental spacecraft, lifts off today from NASA's newly popular Wallops Island Flight Facility in Virginia. The Cygnus is an unmanned cargo vessel, and for this test mission it's carrying about 590kg of supplies to the three astronauts currently orbiting in the ISS.
---